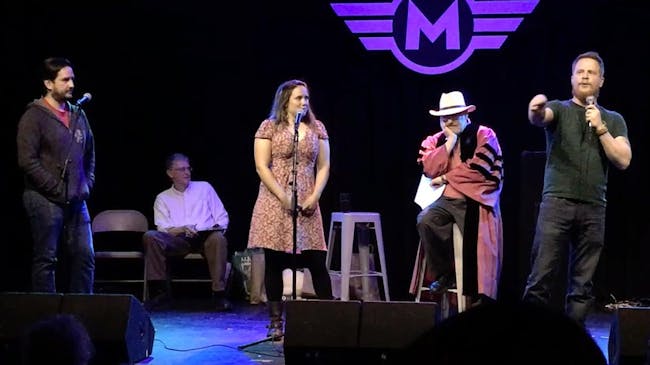 Regulator Book Shop presents
2020 Great Durham Pun Championship
2020 Great Durham Pun Championship at Motorco Music Hall.
Tickets are for general admission to this event. Some seating is available on  first come basis. Please arrive early.
About
Announcing the 2020 Great Durham Pun Championship!
An evening of fun and games! Come to be amazed, to laugh, to groan, to boycott POTUS's "State of the Onion" address which will be happening the same night!
Get your tickets early--the last five pun contests were sell-outs!
Here's a quick run-down of the way the contest works:
Pundamonium will reign as a pair of punsters are given a subject. Punster number one will have 10 seconds to come up with a relevant pun. Punster number two then gets ten seconds. On it goes, until someone's pun doesn't pun out. We'll start the evening with 24 contestants, and a couple of hours later the last pun person standing will be crowned the Pun Master of Durham (a.k.a Punster of the Year, or P.O.T.Y). Order will once again be maintained by "Judge" George Gopen, PhD, JD, Professor Emeritus of the Practice of Rhetoric at Duke. With a name like GoPun....
Now in its ninth year, The Great Durham Pun Championship remains a thoroughly irrespunsible event which threatens the underpunnings of polite society. You have been warned!
A dentist and a manicurist married…They fought tooth and nail.
Those who get too big for their britches will be…Exposed in the end.
Police were called to a day care where a three year old was…Resisting a rest.
Punsters still kneaded! If you think you can take the heat, rise to the occassion, and not turn out half baked, we still need a few more contestants to fill our bracket. Email regulatorbookshop@gmail.com and tell us why you would be a good punster. Put "Pun Contest" in the subject line.
A portion of the proceeds from this year's event will be donated to the Durham Literacy Center.