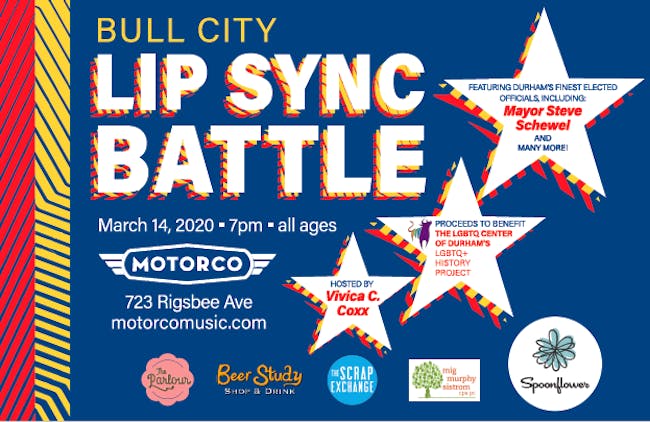 2nd Annual Bull City Lip Sync Battle
hosted by Vivica C. Coxx, Gemynii
2nd Annual Bull City Lip Sync Battle at Motorco Music Hall - This event has been postponed to a date TBA
Dear fellow Durhamites,
Unfortunately, due to the current outbreak of COVID-19, we have decided to postpone the 2020 Bull City Lip Sync Battle. It will NOT be happening this Saturday, March 14, as originally planned.
This decision is not because we think everyone needs to panic and hoard resources and live in fear of each other. It's a decision borne from wanting to love our neighbors as best we can, which means doing what we can to make sure resources are available to those who need them. At its root, this event is about using our love for Durham to support marginalized communities. Among those most marginalized are our community elders, those of us living with preexisting medical conditions, and those of us without access to healthcare or paid sick leave.
At this time, the official word is that most people living in this country are at little immediate risk of contracting the virus. That's wonderful! We want to do what we can to keep it that way. We've seen what can happen when health systems get overloaded. We're not worried about "most people." We're worried about the most vulnerable people. Our beneficiary this year is the Durham LGBTQ+ History Project, and if there's anything that LGBTQ+ history has to teach us, it's that we can't rely on institutions to protect us, but we can care for each other. And we don't believe this should only be our basis for decision-making in times of emergency, but rather all the time. This is a great opportunity to think about what it means to make events more accessible to everyone in our communities on an everyday basis, not just make them accessible to most of the people when things are operating on the status quo.
So we won't see you on Saturday. Instead, celebrate the company of those nearest to you. Have a sing-off in your kitchen. Take a hot bath and enjoy some alone time. Or plan your 2020 political activism. Do whatever will remind you of the hope and love you have for yourself, for Durham, and for the rest of the world.
We'll be sure to keep you posted on the new date as soon as we have it. Our elected officials have some amazing numbers planned for you!
In love and solidarity,
the Bull City Lip Sync Battle planning team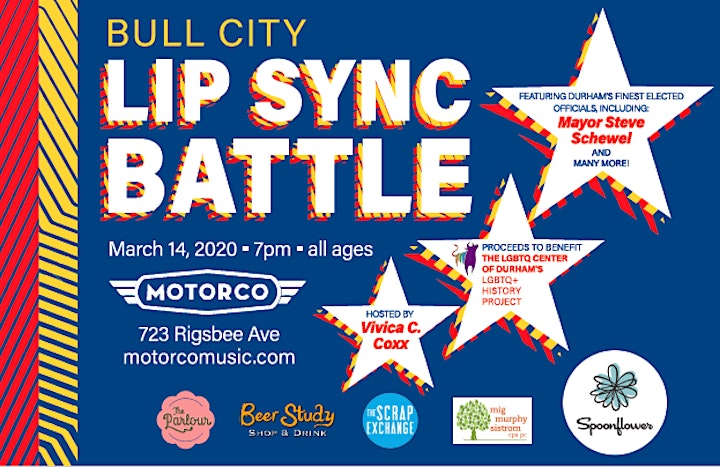 ABOUT THIS EVENT
We are back for a re-match! Last year's inaugural Bull City Lip Sync Battle was a sold-out success, with some of Durham's finest elected officials shaking their shimmy and lip syncing their hearts out for our community. Don't miss your chance to be in the audience this year! The lovely Vivica C. Coxx will be hosting us again and DJ Gemynii will be spinning the tunes. The event will benefit the Durham LGBTQ+ History Project, a project sponsored by the LGBTQ Center of Durham. All ages show, bring the whole family!
This event is affiliated with the LGBTQ Center of Durham (a 501(c)(3) NFP).