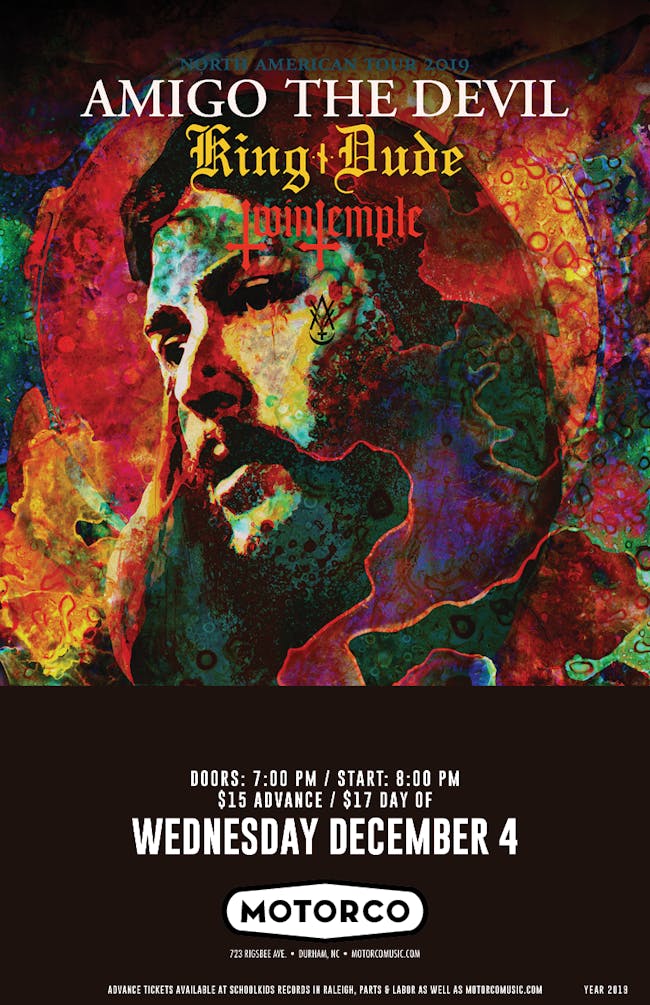 Amigo The Devil with King Dude and Twin Temple at Motorco - Durham, NC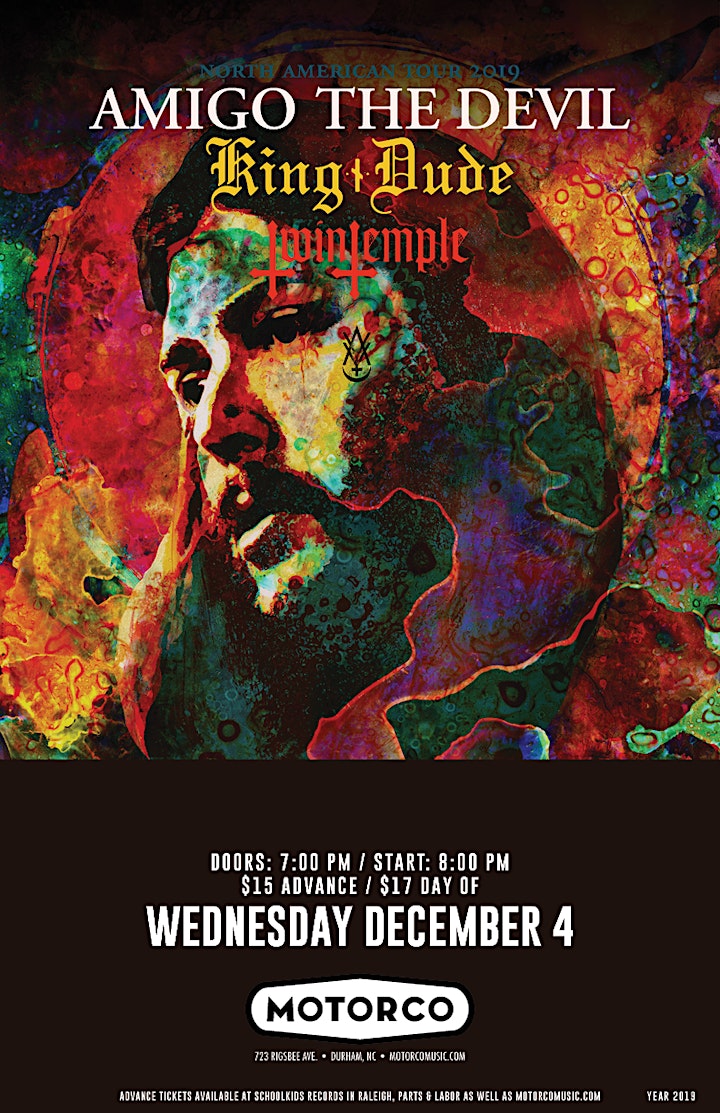 Amigo The Devil with King Dude and Twin Temple at Motorco - Durham, NC - Wednesday December 4th
Doors: 7pm
Show: 8PM
$15 Advance/ $17 Day of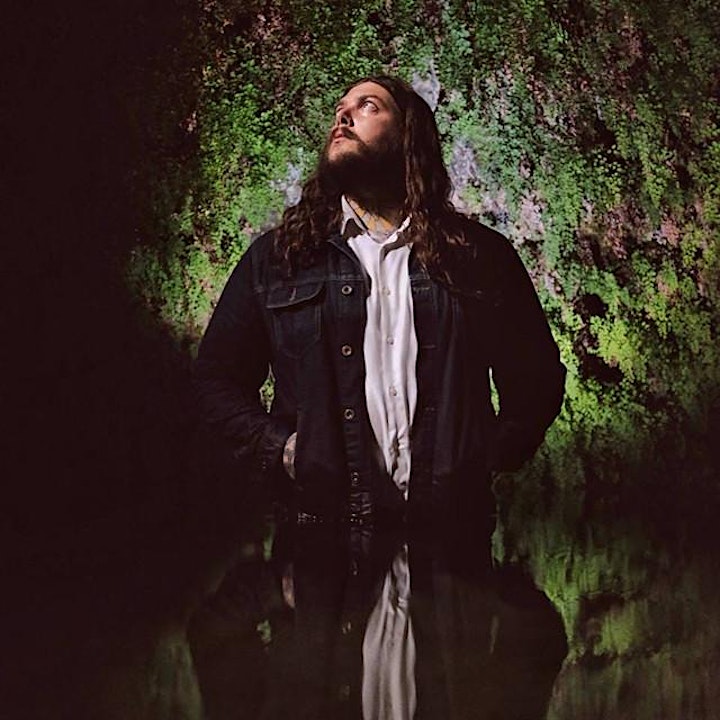 If you've ever heard a room full of people yelling "I hope your husband dies" in a some harmoniously sloppy, drunken unison, you've probably stumbled into an Amigo The Devil show.
Danny Kiranos, better known to the masses as his musical counterpart Amigo The Devil, has been challenging the expectations of traditional folk, country music purists, and rock/extreme metal fans alike with his morbid, yet oddly romantic, take on folk that has amassed a dedicated and cult like fan-base. Despite being armed with only his vocals and a banjo/acoustic guitar, the live show is worlds away from what people expect of a folk show. Loaded with sing-alongs and an unsuspecting dose of humor to make otherwise grim topics accessible for fans of every genre, the songs remain deeply rooted in the tradition of story-telling that seems to be slipping away from the human condition.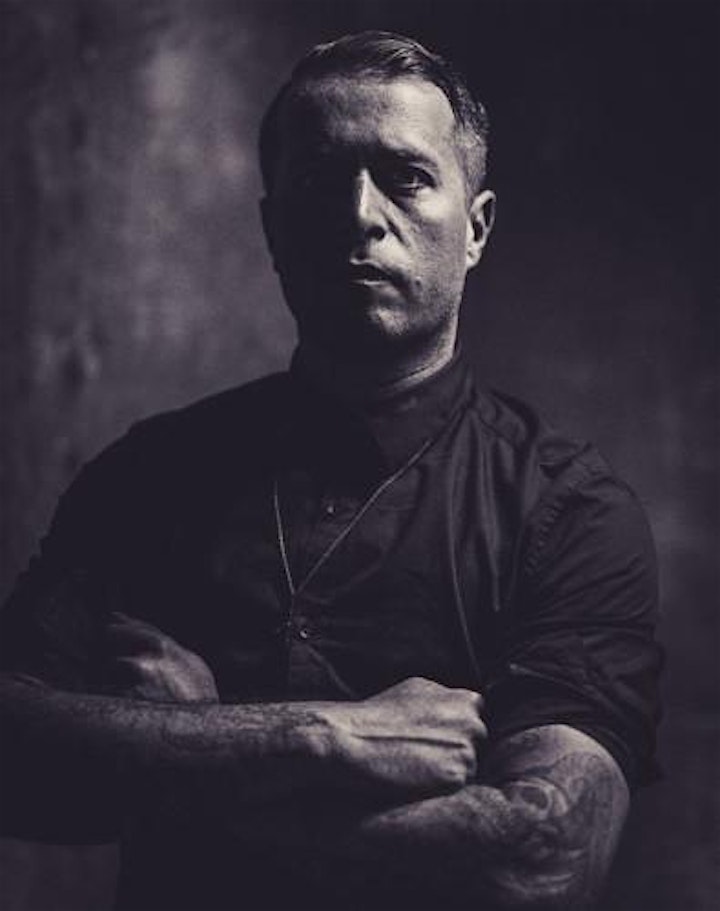 King Dude
In a time when American folk music has lost touch with its bloody roots, King Dude seeks to illuminate the darkness with sex, death, love, insanity, and Lucifer's light. Since 2006, his devotional rock 'n' roll has been both the medium and the message; his throaty baritone and devilishly visceral songwriting the tools he wields to ignite the fiery spirit of revelation in all who encounter him.
Thanks to past releases on Dais, Avant!, Bathetic, Clan Destine, and Ván records, a number of high-profile festival appearances, and a relentless tour schedule—often alongside the likes of Ghost and Earth—the silver-tongued singer/songwriter has found an ever-expanding global audience with whom to share his prophetic vision of hope and salvation: a willing congregation whose raised voices and stomping feet reliably turn his shows into Luciferian tent revivals.
King Dude is a blue-eyed Mephistopheles with an acoustic guitar; he dresses like Johnny Cash and sings like he cut in line in front of Robert Johnson at the crossroads. His voice can shift from haunting and vulnerable to thunderous near-Biblical fury in the space of a breath, marrying the sacred to the profane with pomp, circumstance, and a curled lip. He sings about death the way he sings about fucking. With inspiration torn from country, blues, Americana, and British folk (and a background in heavy metal), King Dude's raw, hypnotic hymns channel the past while staring straight ahead into a revelatory future.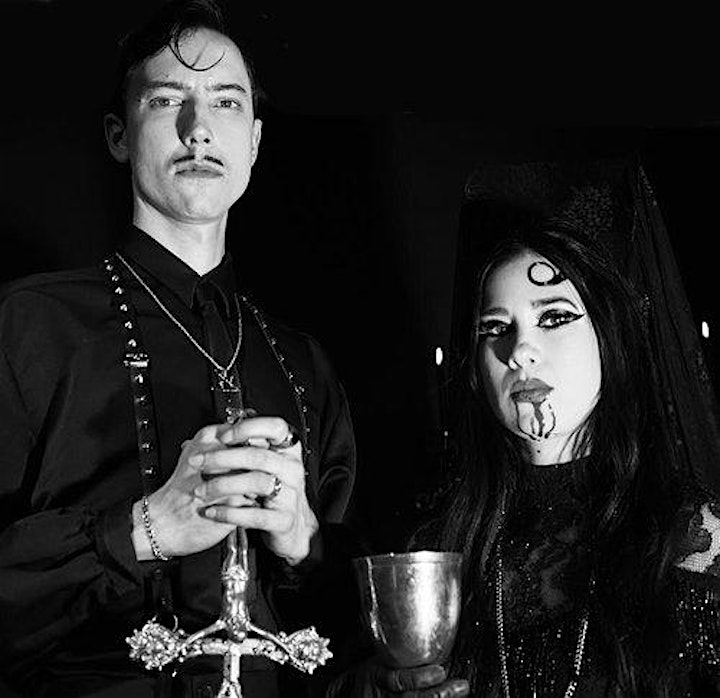 Twin Temple
Alexandra and Zachary James are the high priests of Twin Temple, the Satanic doo-wop band hailing from the city of Angels.
The band was started on Halloween (a witch's sabbath) in 2016 when a destruction ritual was performed, and Alexandra and Zachary stepped into their power as Twin Temple, energetically killing all their previous incarnations up until that point.
Although you may expect heavy guitar riffs and a thumping bass to accompany cries of "Hail Satan," instead you'll hear old-school, classic riffs and Alexandra's crooning voice that sounds straight out of the '60s. While many confine Satan to the likes of black metal, the duo is breaking the notion that Satan has a type. After all, who says Satan wouldn't get down to some classic Americana? Inspired by the golden era of rock 'n' roll, Twin Temple rejects conformity of any kind, whether it's through their magick, performance, or sound.
And while a lot of "Satanic" metal bands begin and end their worship of Satan on stage, the same can't be said for Twin Temple. Both their music and their practice of Satanism, on and off the stage, are rooted in the ideals of free will and giving space to those who are often not allowed any.
So no, Twin Temple doesn't drink the blood of virgins or kill babies to sacrifice on the full moon. They are challenging notions about what it means to free the oppressed, fight back against dated and binary ways of thinking, and doing it all while hailing the dark lord himself.
If there's anything to expect with Twin Temple, it's the unexpected.