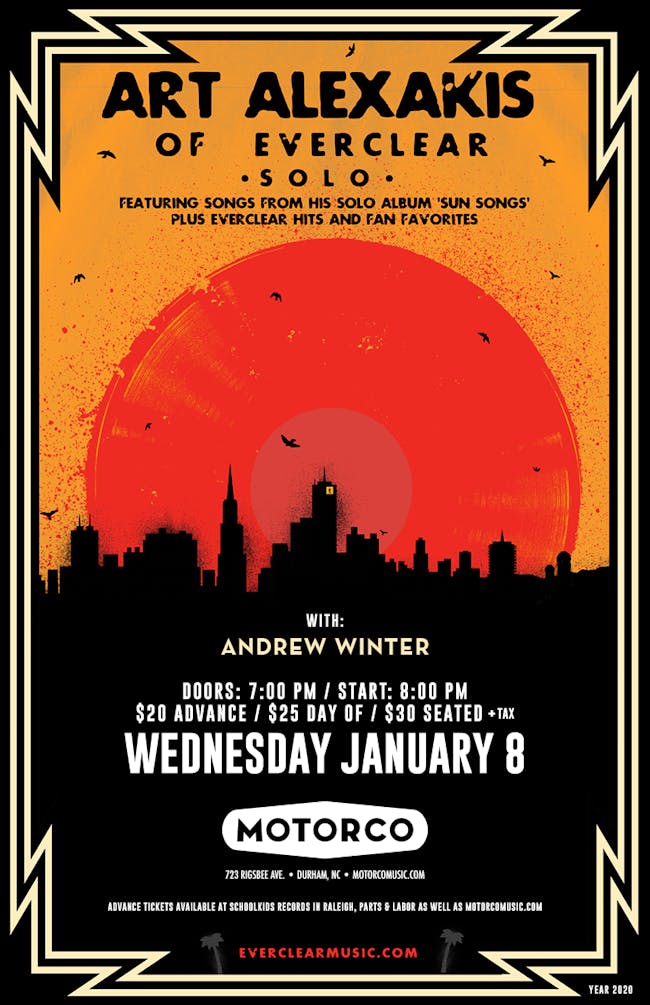 ART ALEXAKIS at Motorco  with guest Andrew Winter  Show 8 PM/. Doors 7 PM $25 day of seated
UPDATE: This show is now seated only. ALL seats are first come first serve. If you bought a seated ticket previously you will receive $10 token. Please see front door personnel for details.
ART ALEXAKIS
As the singer/guitarist/songwriter of Everclear, Art Alexakis penned some of the most popular alt-radio hits of the late '90s ("Santa Monica," "Everything to Everyone," "Father of Mine," etc.).
But prior to his musical career, Alexakis' personal life was extremely turbulent, including a troubled childhood and an extended period of serious drug addiction. Born on April 12, 1962, in West Los Angeles, CA, Arthur Paul Alexakis was the youngest of five children and was raised primarily by his mother (his father walked out on the family when Alexakis was only five years old). Life was hard for Alexakis, as his he and his family relocated to a housing project in Culver City, CA. To escape the unhappiness of his home life, Alexakis turned to drugs at an early age as a form of escape, but when he was 12 years old, his older brother died from a heroin overdose. Instead of using the tragedy as an example to end his own drug abuse, the youngest Alexakis sunk further into drug abuse, and even witnessed a girlfriend die the same way his brother had (Alexakis also attempted suicide shortly after his brother's passing).
Alexakis' penchant for trouble didn't subside throughout his teenage years, as he had numerous run-ins with the law; resulting in stays at both juvenile hall and jail. It was also during this time that Alexakis picked up a guitar, yet drugs remained his main interest in life. After nearly dying from a drug overdose in 1984 (at the age of 22), Alexakis decided to clean up his act once and for all, quitting drugs, smoking, and drinking. Now free of all the excess baggage, Alexakis pursued music fully as a member of such local bands as Easy Hoes and Shakin' Brave, in addition to being a road manager and driver for other groups. Around the same time, Alexakis also took film courses at Santa Monica College and UCLA (which he would later put to use while directing several Everclear videos).
After relocating to San Francisco in 1987, Alexakis formed his own independent record label, Shindig Records (which was distributed via Rough Trade Records). Although his roots lay in hard rock, the label specialized primarily in country-rock, and ultimately proved to be a bust. Alexakis found himself in an alt-country band around this time himself, Colorfinger, issuing a lone album, 1990's Deep in the Heart of the Beast in the Sun (several Colorfinger tracks would later be reworked by Everclear, including "Heartspark Dollarsign," "The Twistinside," and "Why I Don't Believe in God"). Despite building a local following in San Francisco, Colorfinger broke up shortly thereafter, resulting in Alexakis relocating once more, this time to Portland, OR. With his recent discovery of the Pixies, and alternative rock just about to break through to the mainstream (via Nirvana, Pearl Jam, etc.), Alexakis sought to assemble a new group that reflected the current musical climate. Joining Alexakis was bassist Craig Montoya and drummer Scott Cuthbert (via an ad in a Portland newspaper), which led to the birth of Everclear. The newly instated lineup recorded a cheap demo in 1992, World of Noise, which would be reissued as their debut album a year later.
1994 turned out to be a pivotal point in Alexakis' and Everclear's career, as Cuthbert was replaced with newcomer Greg Eklund, and the band inked a major-label recording contract with Capitol Records. Everclear quickly became one of alt-rock's top dogs, after a pair of albums became sizeable hits, 1995's Sparkle and Fade and 1997's So Much for the Afterglow. With Everclear's career already well-established, Alexakis invested his time into other projects during the late '90s: producing Frogpond's Count to Ten, sharing the stage with his childhood heroes Cheap Trick for their 25th anniversary concert (documented on the 2001 CD/DVD, Silver), and testifying before congress in support of the Hyde-Woolsey Child Support Bill. With Everclear taking a much needed break from touring in the late '90s, Alexakis began work on what was to be his solo debut. But, when the other Everclear members became involved, they soon served as the basis of a new Everclear album, Songs From an American Movie, Vol. 1: Learning How to Smile. Never one to rest on his laurels, Alexakis and his Everclear pals issued a follow-up recording just four months later, Songs From an American Movie, Vol. 2: Good Time for a Bad Attitude. 2002 saw Alexakis form another record company, Popularity Records, and sign on to produce the next release of the label's first signing, Flipp. The same year, Alexakis began work on what was to have been a solo recording, but once more, the album eventually turned into a full-blown Everclear album.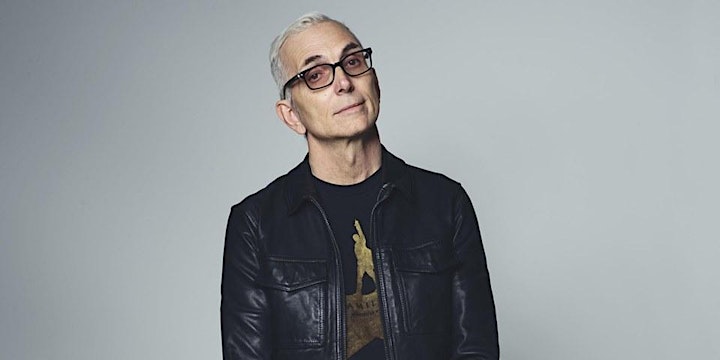 Andrew Winter
Winter's musical career officially began in 2004 when he joined the Horrorpunk band, Blitzkid—although, like many musicians, music has always been a fundamental aspect of Andrew's life. With Blitzkid, Winter was able to tour the world behind the drums—playing over 1,000 shows in 27 different countries. Upon Blitzkid's split, Winter took a break from drums and fronted the band, Andrew Winter and the Reckless Dodgers. Andrew's vocals and lead guitar were formative in the band's two full length albums during their five year run. In May of 2016, Reckless Dodgers called it quits, at which point Andrew decided to focus on his solo project. Winter's solo project is acoustic punk rock, with a folk punk feel. His lyrics are personal yet relatable, offering a genuine significance to a variety of folks.