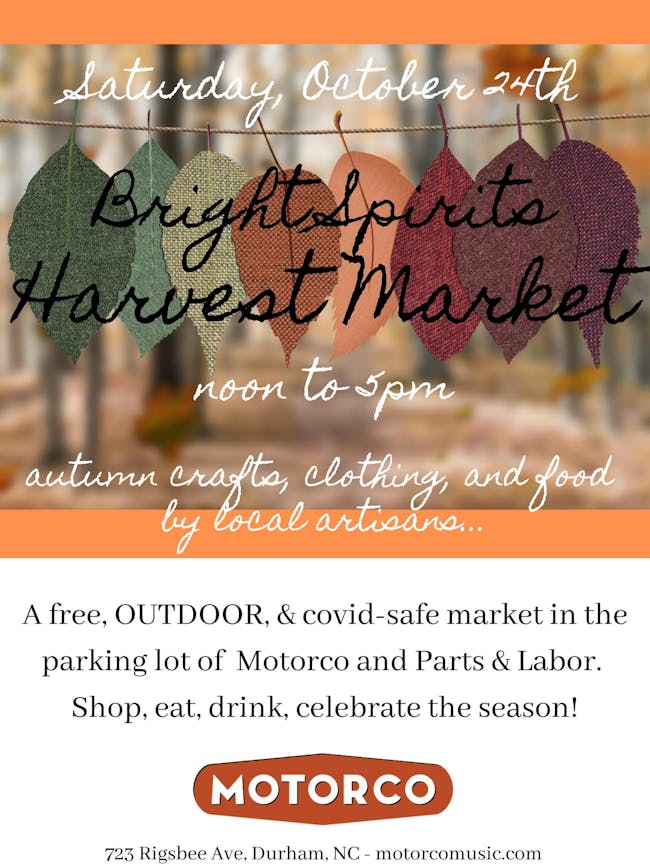 Autumn Crafts, Clothing, and Food by Local Artisans
A free outdoor market in the parking lot at Motorco Music Hall & Parts and Labor.
Shop, Eat, Drink & Celebrate Autumn with over 20 vendors!
We're so excited to be able to have the Bright Spirits Harvest Market this year! Since there will be a good amount of people here, it's so important that we all work together to keep everyone safe. Please think of others and be patient as you walk through the market so that everyone can see all of the vendors and purchase to their heart's content.
Event is OUTDOORS!
All vendors are over 6 feet apart.
Masks are required by EVERYONE and must be worn over mouth and nose the whole time.
Please make use of the sanitizer upon entry and use the following guidelines to be safe and have fun…
• Please wear mask over mouth and nose at all times!
• 1 person or pair per booth at one time
• Wait on x's in front of each booth. If x's are taken, please circle around and come back later.
• Keep at least 6 feet between your party and others
• Please do not gather in large groups.
• Keep the one-way circle moving, you can go around as many times as you'd like!
• Follow vendors preferences for handing items
Updated List of Vendors: https://www.facebook.com/brightspiritsholidaymarket