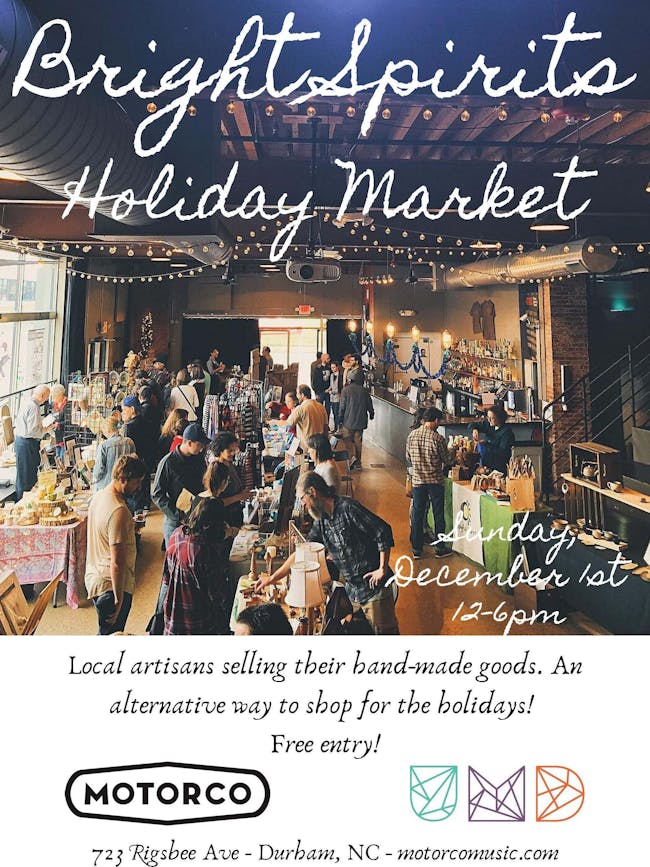 Bright Spirits Holiday Market at Motorco Music Hall Free to the public!
Bright Spirits Holiday Market
We're a holiday craft market in Durham, NC. Our second annual event will be on December 1st at Motorco Music Hall. We're looking forward to meeting some amazing local artists and introducing them to folks wanting a little something more out of their holiday shopping experience. While you're at the market, you'll be able to enjoy food and drink available for purchase at Motorco and Parts & Labor. Get yourself a fancy holiday cocktail or a local brew and find the perfect gift for those special to you!
We will also be raising funds for Urban Ministries of Durham.
More info: https://www.facebook.com/brightspiritsholidaymarket/
2019 Vendors Include:
Beehive Yourself
Blue Door Photography
Bold Standard
Book Appeal Crafts
C+R by the Sea
Designs by Candacie
Dianne Starr
Frances and Me
Gabi's Grounds
Hunter Farm
Ian Griffin Art
Joyful Acres
Lavender Wine Jewelry
MakeShift
Metamorphosis Metals
Old North Farm
Red Mountain Goodness
SILT
Valley Brook Farms, LLC
Wood Be Retired