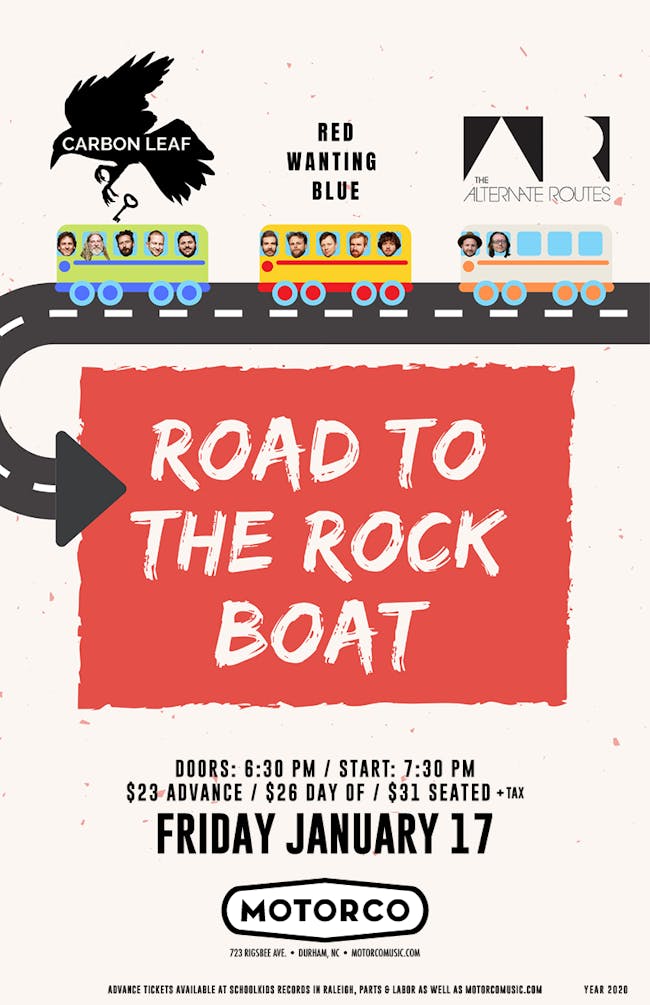 CARBON LEAF / Red Wanting Blue / The Alternate Routes Doors: 6:30 PM / Show: 7:30 PM All Ages $23 Advance / $26 Day of the / $31 Seated
ROAD TO THE ROCK BOAT
Crabon Leaf
Blending rock, folk, Celtic, bluegrass and Americana traditions into a high-energy style the group calls ether-electrified porch music, the Virginia quintet's poetic songs are brought to life with acoustic & electric guitars, mandolin, fiddle, bass, drums, cello, banjo, penny whistle, pedal steel, accordion and rich vocal harmony.
Carbon Leaf writes, records and produces its music independently from their studio in Richmond, VA, and has performed over 2,400 lives shows across 17 albums in their long career.
The group's independent music and spirit continue to resonate with its fans.
Red Wanting Blue
One of the Midwest's most enduring indie Americana outfits, Red Wanting Blue (often referred to by fans in the abbreviated RWB) formed at Ohio University in Athens, Ohio, in 1995.
Anchored by frontman Scott Terry, the band self-released their first album Velveteen in 1996. The Image Trigger followed two years later, and 2000's Model Citizen marked the first appearance of long-time bassist Mark McCullough.
The band's fourth album, Sirens, appeared in 2001, and Souvenirs of City Life followed in 2003. The sixth Red Wanting Blue album, 2004's Pride: The Cold Lover, was a breakthrough of sorts -- it brought them television placements on the shows Love Monkey and Life Is Wild. After its release, guitarist Greg Rahm joined the band. In 2006, Red Wanting Blue took 100 of their fans into the studio with them and recorded the live acoustic album The Warehouse Sessions, also filming the proceedings for a video release later that year.
For their eighth album, These Magnificent Miles, the band hired producer Jamie Candiloro (Ryan Adams, R.E.M., Willie Nelson) and settled into an Americana-based rock sound. The album was released in August of 2008, by which time the frequently changing lineup had finally gelled around Terry, McCullough, and Rahm, plus Eric Hall on guitar and lap steel and Dean Anshutz on drums.
In 2010, the band finally signed a label deal with Fanatic Records, an imprint of Caroline/EMI, and These Magnificent Miles was re-released in July of 2010, bringing them to a substantially larger audience. They were asked to contribute a song to the film Unraveled and were also the subject of a tour documentary. In 2011, again enlisting Candiloro to produce, they released From the Vanishing Point, which landed them in the Top Ten on Billboard's Heatseekers chart and received plenty of play on AAA radio. Their 2012 tour became their most successful yet; they sold out shows across the U.S. and made their network television debut on The Late Show with David Letterman. In the spring of 2013, Red Wanting Blue returned to the studio to begin working on their tenth album. The results, Little America, appeared in July 2014, and debuted at number three on the Billboard Heatseekers Chart and number 31 on the Billboard Mainstream Rock Chart. In 2018, the band returned with their 11th full-length effort, the Will Hoge-produced The Wanting, which featured the single "Ulysses."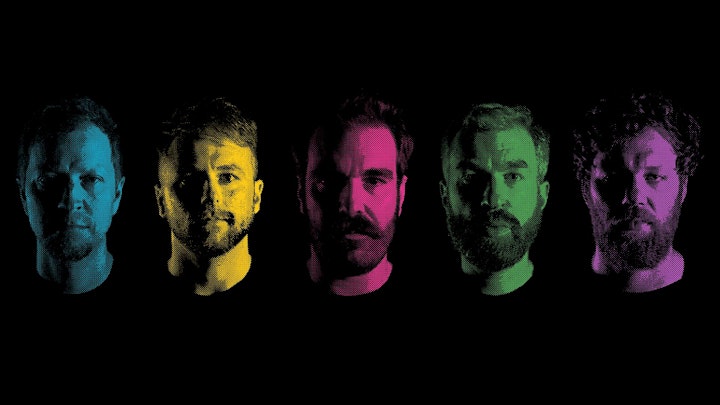 The Alternate Routes
The Alternate Routes are the band that helped us to remember "we are how we treat each other, and nothing more." Now they're back with a new single, "Safe Haven"—a love song that uses real life as its backdrop.
"Nothing More" propelled the band into new ears and new heights, having been featured prominently in the 2014 Winter Olympics, on NCIS, and in a partnership with TOMS shoes. It was followed up with "Somewhere in America," a poignant and personal conversation about gun violence that earned the band a 2016 Independent Music Award and a visit to the White House.
"Safe Haven" continues the socially-conscious, no-hold-barred examination on modern living that the band has increasingly embraced. It reflects an evolution and maturity that results from sticking together and trying new things, musically and lyrically, for over a decade.
"Sitting down with someone you love and trying to convince them, and yourself, to keep pushing forward, to face your fears and stay strong, is a sentiment that I hope many people can relate to," says guitarist, Eric Donnelly.
"Safe Haven" was self-produced by Donnelly, drummer and engineer Kurt Leon, and singer Tim Warren, a sonic departure from previous efforts that highlights the use of the recording studio itself as an instrument. It was mixed by fellow Bridgeport, Connecticut native Peter Katis (The National, Interpol, The Swell Season).
The Alternate Routes first burst onto the scene in 2005 with their breakthrough album Good and Reckless and True. They released several albums on Vanguard Records and on their own, toured extensively, and relentlessly refined their craft. They have collaborated with such seemingly disparate artists as singer-songwriter Patti Griffin, director Lisa Cholodenko (The Kids Are All Right), and guitarist Carl Broemel of My Morning Jacket. They've performed on "The Late Late Show with Craig Ferguson," "Late Night with Conan O'Brien," and have been repeat guests on NPR's "Mountain Stage."
The core lineup of the Alternate Routes is:
Tim Warren (vocals)
Eric Donnelly (guitar)
Kurt Leon (drums)
Ian Tait (bass)
Taryn Chory (vocals)