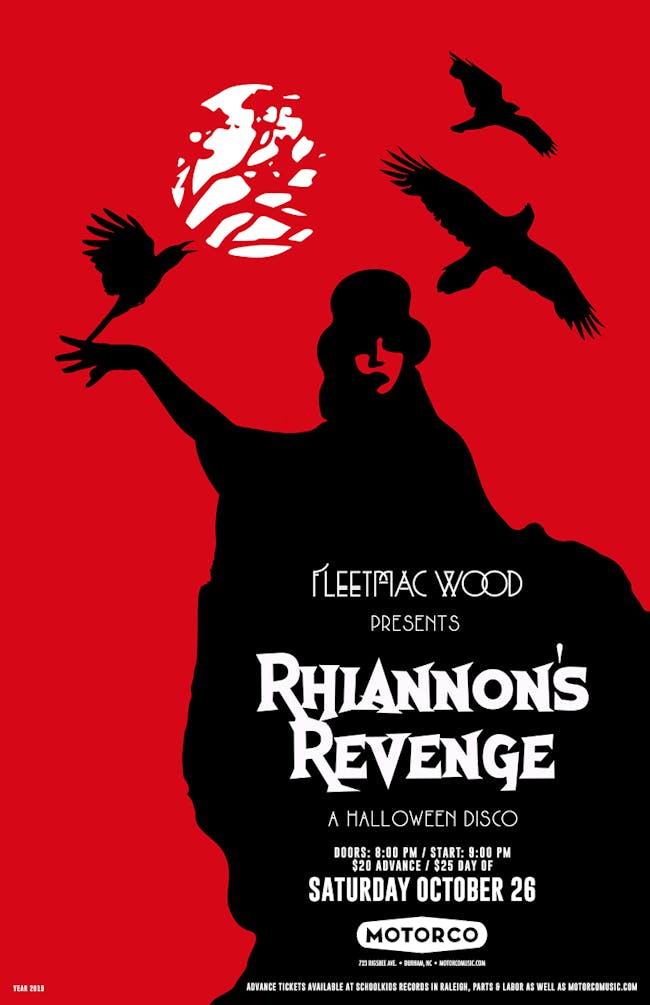 Fleetmac Wood Presents Rhiannon's Revenge - A Halloween Disco at Motorco Music Hall Doors: 8 PM / Show: 9 PM
Fleetmac Wood presents
Rhiannon's Revenge
A Halloween Disco with remixes and edits of Fleetwood Mac, crafted for the dance floor with Fleetmac Wood DJ's Roxanne Roll and Smooth Sailing
Dress Code: Horrifically Inspiring and Other Worldly
A divine Queen returns to dance among us this Halloween.
Her hovering birds sing a song that wakes the dead and lulls the living into a dream. This Hallowed Eve, she calls you to join her twirling circle.
Like a bell through the night, she tolls for revenge.
She is the goddess of creativity and winged beasts, rising up against the forces that try to crush magic and muse. You cannot stop the moon from rising.
She is the darkness…and the light.
Since 2012, we have been hosting our tunnel-visioned event and celebrating the extensive back catalogue of Fleetwood Mac. With a curated and created assortment of remixes and edits we've shared our passion with like-minded hedonists all over the world.
Sounds like: http://bit.ly/fmwrhmixsc
Feels like: http://bit.ly/fmwrrytpt1
Yes we have T-shirts
http://fleetmacwood.bigcartel.com
About Fleetmac Wood
With exclusive remixes and edits crafted for the dance floor, this DJ set and AV show is not a tribute act, but a rave that re-frames the music of Fleetwood Mac. Twirling through disco, techno and house, DJs Roxanne Roll and Smooth Sailing have taken this dance party from Berlin to Burning Man and shared their passion with like-minded hedonists around the world.
Facebook: http://bit.ly/fmwfacebookpage
Twitter: http://bit.ly/fmwtwitter
Instagram: http://bit.ly/fmwinsta
Soundcloud: http://bit.ly/fmwsoundcloud
Youtube: http://bit.ly/fmwytpg
Vimeo: http://bit.ly/fmwvimeo