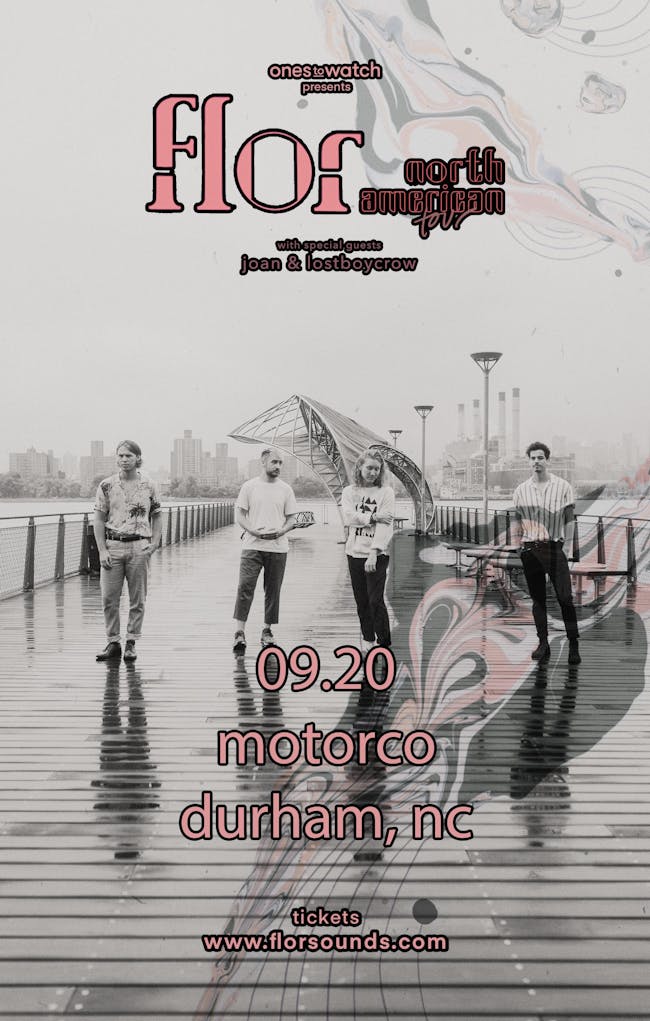 Crank It Loud Presents: Ones to Watch presents
flor
Joan, Lostboycrow
$18.00 - $20.00
Sales Ended
On Ticketfly
Crank It Loud Presents: Ones to Watch Presents FLOR / Joan / lostboycrow at Motorco Music Hall
Crank It Loud Presents: Ones to Watch Presents FLOR / Joan / lostboycrow
September 20 - 2019
Doors 6:30pm / All Ages
www.crankitloud.net
flor
Flor (stylized as flor) is an American indie pop band formed in Oregon, United States in 2014 (they used to be called Sunderland). The band is currently based out of Los Angeles and consists of lead vocalist Zach Grace, guitarist McKinley Kitts, bassist Dylan Bauld and drummer Kyle Hill. They have released one album "come out, you're hiding" in 2017 and are currently recording a follow up. They have toured with the band Great Good Fine OK and artist and friend Lostboycrow.
Joan
songsbyjoan.com
Lostboycrow
Magic exists in certain places.
Under the shadow of national treasures a la the Puye Cliff Dwellings and Acoma Sky City, Santa Fe, NM remains steeped in a cross-section of American frontier lore. Not to mention, its vibrant arts scene would be home to the likes of Georgia O'Keeffe, among many others. Rife with natural creative energy and endless high desert inspiration, this magical little town served as the backdrop for Lostboycrow's 2019 full-length debut, Santa Fe. It closes one chapter and opens another for the artist born Chris Blair. At the onset of his touring career in 2011, New Mexico welcomed him with open arms at cozy coffee houses. Even further back, the first song he performed live in high school would be "Santa Fe" from the musical Newsies.
The years since he first hosted those intimate gigs in Albuquerque set the stage for such transformation in the high desert. Revered for his rapturous voice, off-kilter R&B panache, pure alternative perception, and airtight songwriting, Lostboycrow emerged as the ultimate pop enigma. By 2018, his cumulative streams impressively tallied over 150 million highlighted by the success of "Powers," "Stay A Little Longer," "The Lost Boy" [feat. Skizzy Mars], and more. Meanwhile, he enchanted audiences everywhere alongside the likes of VÉRITÉ, K. Flay, and Flor on the road. Along the way, he garnered acclaim from Billboard, Nylon, and Pigeons & Planes, to name a few.
In the end, Lostboycrow captured real magic in Santa Fe.