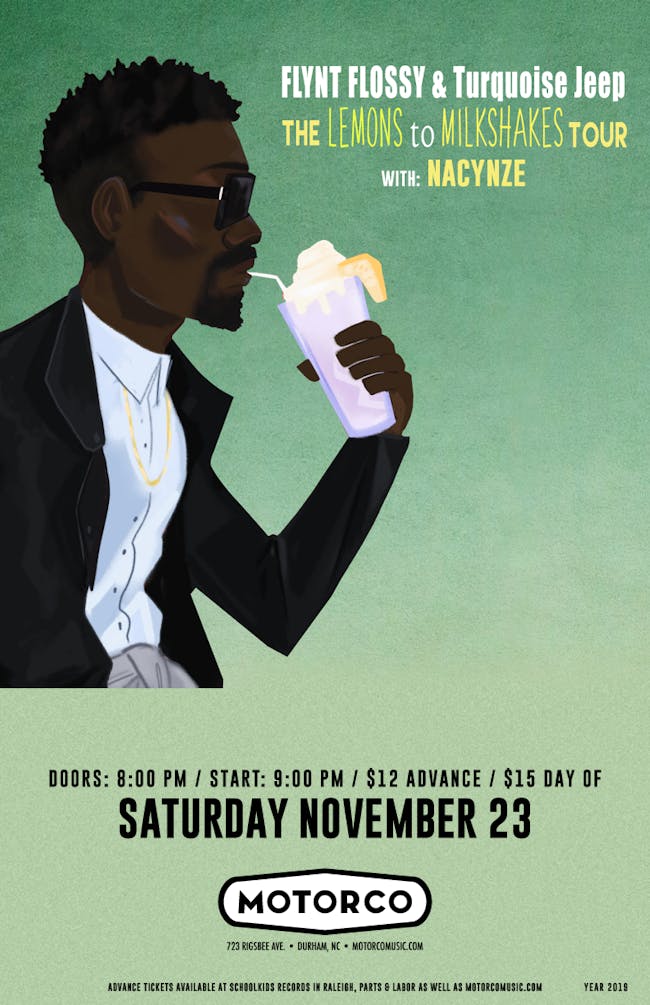 The Lemons to Milkshakes Tour at Motorco Music Hall with FLYNT FLOSSY AND TURQUOISE JEEP with Nacynze
FLYNT FLOSSY AND TURQUOISE JEEP
Besides being the rapper behind the viral hits "Did I Mention I Like to Dance" and "Treat Me Like a Pirate," Flynt Flossy is also head of the strange, fun, and mysterious Turquoise Jeep record label/collective.
Flossy claims the TJ crew were born on the Internet and not based in any geographic location, but he does admit that he launched the label with R&B singer Whatchyamacallit. Flynt kicked things off in 2009 with an upload of his party rap song "Stretchy Pants," while the beginning of 2010 saw Whatchyamacallit and Flynt join TJ artist Yung Humma on his massive viral hit "Fried or Fertilized." That same year saw the trio come together for another viral Humma hit, "Lemme Smang It." Both tracks landed on that year's Turquoise Jeep compilation Keep the Jeep Ridin', which also featured Flynt's electro-dance number "Did I Mention I Like to Dance." Considered more Lonely Island than Odd Future at this point, Flossy and Humma "went legit" in late 2012 when they joined Childish Gambino for the single "F*ck Your Blog." A year later, Flynt would release another solo single, the party rap track "Treat Me Like a Pirate" ("and gimme that booty").
Twitter - Flynt Flossy
Twitter - Turquoise Jeep
Nacynze
NACYNZE (in a sense) is a hip hop duo from Creedmoor NC that just want to make real hip hop for real people. There are 2 members in the group stayjust and attitude. The duo came together in 2012 to release their first mixtape, "G.I.A.N.T." Soon after, they followed up that project with their EP "Horderves For Dinner" leading with their popular single, "Hey Hey Hey". Nacynze combines the sounds of boom-bat rap with 90s soul to deliver conscious hip-hop records. Nacynze has planted their feet and made their presence known, opening for recording artists such as Redman, Methodman, and Nappy Roots. They have been played on satellite radio as well as local radio stations in New York, Alabama, and NC's own K97.5, as well as been nominated for a 2018 Carolina Music Award for Best Hip-Hop Group/Band! Their heroes range from common to lenny kravitz. The goal of their group is to talk about things that they go through on a everyday basis and show the people that you are not alone on in this game we call life. They bring lyrics, creativity, realism, style, and southern charm to the game.