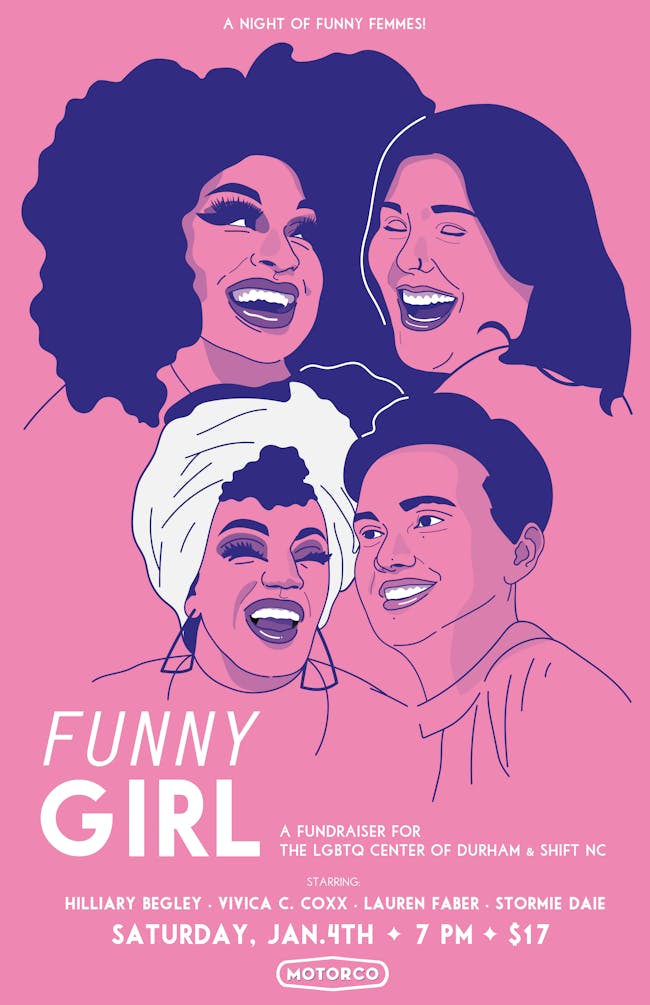 Funny Girl A Night of Funny Femmes!
Sold Out
Hillary Begley, Vivica C. Coxx, Lauren Faber, Stormie Daie
FUNNY GIRL: A Night of Funny Femmes!  at Motorco Music Hall Doors 7pm/ Show 8pm (THIS IS A SEATED EVENT)
Funny Girl, A Night of Funny Femmes starring Hilliary Begley, hosted by Vivica C. Coxx and Lauren Faber, with Stormie Daie, is an evening of comedy and drag from four hilarious femmes. It's also a fundraiser for the LGBTQ Center of Durham and SHIFT NC. Tickets are $17
Performers
Vivica C. Coxx
http://www.vivicaccoxx.com/
@vivicaccoxx
Hilliary Begley
https://www.facebook.com/highlarrious/
@highlarrious
Lauren Faber
https://www.laurenfabercomedy.com/
@laurenfaber
Stormie Daie
https://www.facebook.com/StormieChasers/
@stormiedaie
About SHIFT NC
SHIFT NC (Sexual Health Initiatives For Teens) is a statewide nonprofit leading North Carolina to improve adolescent and young adult sexual health. By increasing awareness, disseminating data, improving policy, supplying professional development, and providing leadership, we are empowering North Carolina's professionals to support healthy development.
Our approach uses successful, evidence-based methods to make a positive change for teen pregnancy prevention, HIV and STIs, healthy development, sexuality, and relationships.
Sexual health matters. Investing in young people's sexual health benefits them, our state, and our communities now and in the future.
About The LGTBQ Center of Durham
Our vision is to create a community where all LGBTQ+ lived experiences are affirmed, supported, and celebrated.
This show is seated only. When you purchase this ticket you will have access to general seating and the bleacher section which fits around 30 people. All seats will be first come first served.