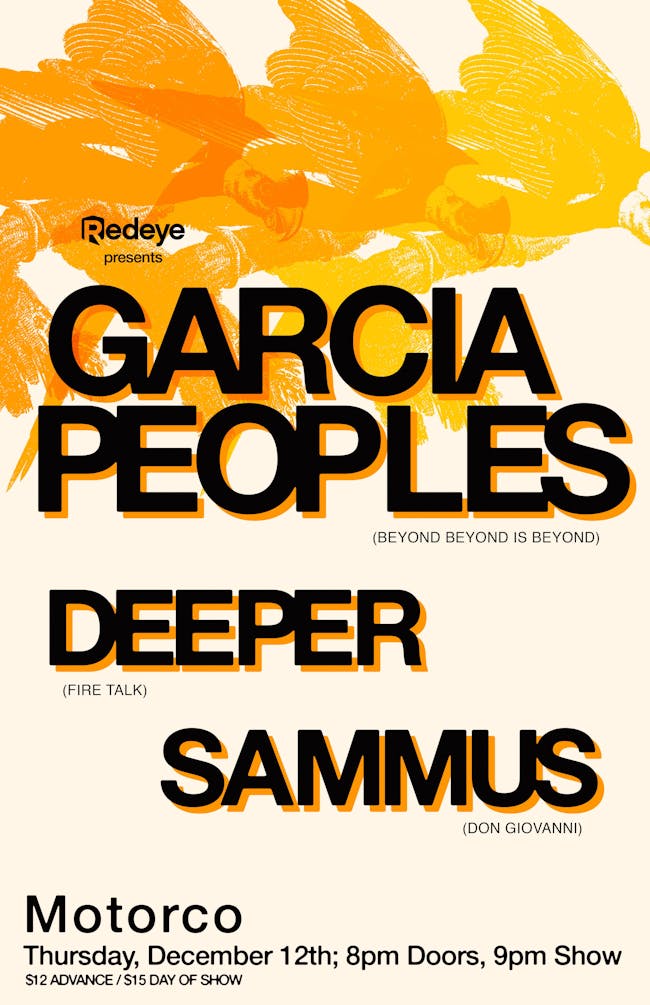 Redeye presents​ Garcia Peoples, Deeper and Sammus at Motorco Music Hall 8pm doors/ 9pm show $12 advance/ $15 day of show
GARCIA PEOPLES
Though the "Garcia" in the name of New Jersey cosmic indie jam band Garcia Peoples isn't an implicit reference, it's clear that the band has spent some time listening to Jerry & co.'s deeper catalog.
Starting up in the late 2010s, the band took notes from a canon of classic acid-washed searchers, including pillars like the Grateful Dead, Allman Brothers, and Canned Heat, but also wove the influence of less-championed acts like NRBQ into their unique update on psychedelic sprawl. The group began as a quartet but expanded just before the release of their 2018 debut album Cosmic Cash.
Garcia Peoples formed in Rutherford, New Jersey, and originally consisted of guitarist/vocalists Tom Malach and Danny Arakaki, drummer Cesar Arakaki, and bassist Derek Spaldo. The band quickly developed a style informed by '60s and '70s jam bands both renowned and obscure. They played often in the Brooklyn club scene, connecting with like-minded bands and gaining a reputation for their electric live show, which often stretched out into ambling psychedelic improvisations. In 2017, they expanded to include keyboardist P.G. Six (also a member of similarly jammy Wet Tuna) and began work on a proper debut album. That album came in the form of Cosmic Cash, released in the summer of 2018 on the Beyond Beyond Is Beyond label. They returned less than a year later in March 2019 with their follow-up LP, Natural Facts.
DEEPER
Deeper's Origins date back to 2014 when prior to releasing any material an abrupt line-up change left the Chicago based band looking for a new direction.
Singer and guitarist Nic Gohl along with drummer Shiraz Bhatti threw out all of their old songs and brought on bassist Drew McBride to round out the lineup. The subsequent demos leaned on intricate guitar interplay, direct "of the times" vocals and a spirit that speaks to the band's collective place in this pit of endless internet.
Deeper honed their sound over the course of 2015 and 16' in basements, lofts, and anywhere that would have them. Touring the demos and landing at a fully realized inflection point. Call it Post-Punk, call it Indie Rock, it's a record that steps in and out of boxes filtered through an unmistakable midwestern lens.
As social norms and political ideologies distort, writing and creating art was the only way to control the growing voice in the band's collective head. The conceptualizing of the album started and stopped over that two year time warp culminating in a few feverish tracking sessions in late 2017. What was left is a stark shimmering portrait of a modern American experience.
SAMMUS
Sammus is the stage name adopted by Ithaca, NY producer, rapper, activist, and PhD student Enongo Lumumba-Kasongo. Known as much for her rousing stage presence as she is for her prowess as a beatmaker and lyricist, Sammus has spent the past several years cultivating a strong following of activists, hip hop heads, punks, and self-proclaimed nerds and geeks, among others.