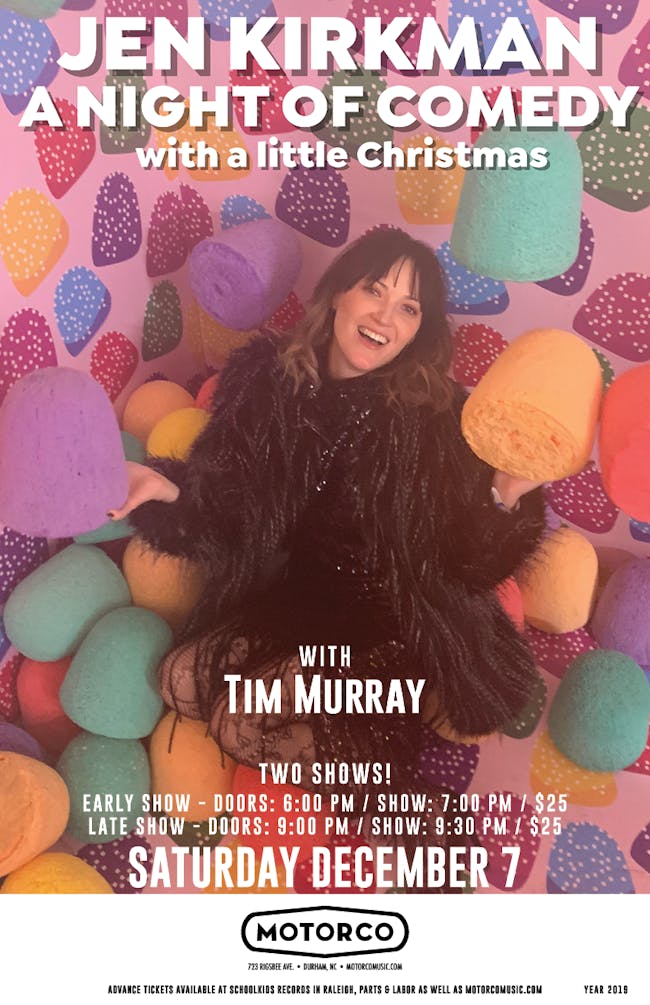 Jen Kirkman: A Night of Comedy with a little Christmas - Late Show with special guest Tim Murray
JEN KIRKMAN
Jen Kirkman is in town with stories and jokes that you have not already seen on Netflix! And since it's almost Christmas there will be some Holiday themed stuff, giveaways, and good cheer!! Jen will be selling and signing books after the show as well!
You know Jen from Chelsea Lately, @Midnight, Conan, The Tonight Show With Jay Leno, The Late Show with Stephen Colbert, her NY Times Bestselling books, her critically acclaimed Netflix specials "I'm Gonna Die Alone" and "Just Keep Livin'?". Jen was a writer on the Emmy and Golden Globe award winning Amazon show, "The Marvelous Mrs. Maisel."
"Shorter observations provide the grouting between excellent extended anecdotes... it is gut-bustingly hilarious too." - The Evening Standard UK
"Her act has the feel of that wonderful moment at the end of a party when you are left alone to gossip with your best friend about the horrible and ridiculous things that just went on. Though delivered in an effortless conversational style, her comedy has the meticulous detail that can come only from repetition and experience." - The New York Times
TIM MURRAY
Tim is originally from Sandusky, OH... The greatest place in the world, especially if you are a lover of the movie "Tommy Boy".
Tim is an LA based Stand-Up Comedian, writer and actor who has been seen in Voldemort and The Teenage Hogwarts Musical Parody at The Edinburgh Fringe Festival and soon in London's Off-West End. He also originated a role in the New York Times' Critic's Pick 50 Shades the Musical.
Tim recently shot commercials for Cedar Point Amusement Park, Fatheads poster co. and MTV and Fifth/Third Bank.
Check out his Youtube page @TMurray06 for his viral video content.