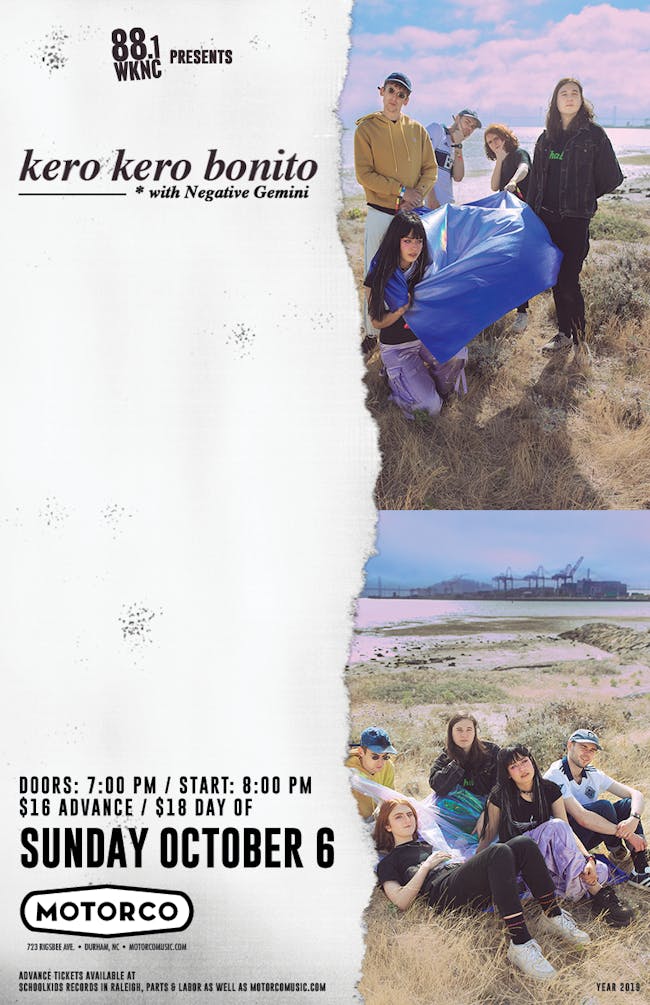 WKNC presents KERO KERO BONITO / Negative Gemini at Motorco Music Hall (SOLD OUT)
Motorco Music Hall has partnered with Lyte to give our fans a way to get official tickets after sell out. All tickets are issued by our ticketing provider, Eventbrite.
For more information CLICK HERE
KERO KERO BONITO
We're Kero Kero Bonito, a band from London, England. We met on an internet forum in 2013; singer Sarah was born in Nagoya to a Japanese mother and British father, before moving to Kenilworth, UK at the age of 13, while producers Gus and Jamie have been friends since school.
We shared our pop universe on Intro Bonito (mixtape, 2014), Bonito Generation (album, 2016) and singles like "Flamingo" and "Trampoline". In 2017 we returned to the suburbs that made us and started rehearsing with guitar, bass and drums.
We introduced our new style with TOTEP in February 2018, and our second album Time 'n' Place was released October 2018. Signposted by the songs "Only Acting" (pop-punk noise) and "Time Today" (chipper Casiotone melancholy), Time 'n' Place is our response to indie-rock history.
Negative Gemini
Negative Gemini is Los Angeles songwriter, singer, and producer Lindsey French known for her contemporary take on electronic indie and her experimentation between genres.
After moving to Brooklyn in 2014, the Virginia native released her self-produced album Body Work via her own record label (100% Electronica) earning early comparisons to the likes of Hope Sandoval and Gwen Stefani. With its unique blend of underground dance beats and pop hooks, Body Work quickly found itself the darling of many music publications, garnering critical acclaim from prominent sources such as MTVnews, Resident Advisor, and The Fader. She would spend the next two years touring North America on and off with her labelmate George Clanton (also known as ESPRIT) while writing the songs that would come to form Bad Baby.
French's new EP Bad Baby redefined contemporary electronic, as her sound shifted to focus on a more intimate approach to songwriting. Upon the six track EP's release January 19th 2018, The Bad Baby EP received further praise from Pitchfork among others, and was named best Bandcamp release of January by FACTmag as well as claimed a spot on Gorillla vs Bear's Best of 2018.
In the spring of 2019 French released a new single 'Different Color Hair' as part of Adult Swim's singles program. She continues to tour the US throughout this summer with TV Girl and others.