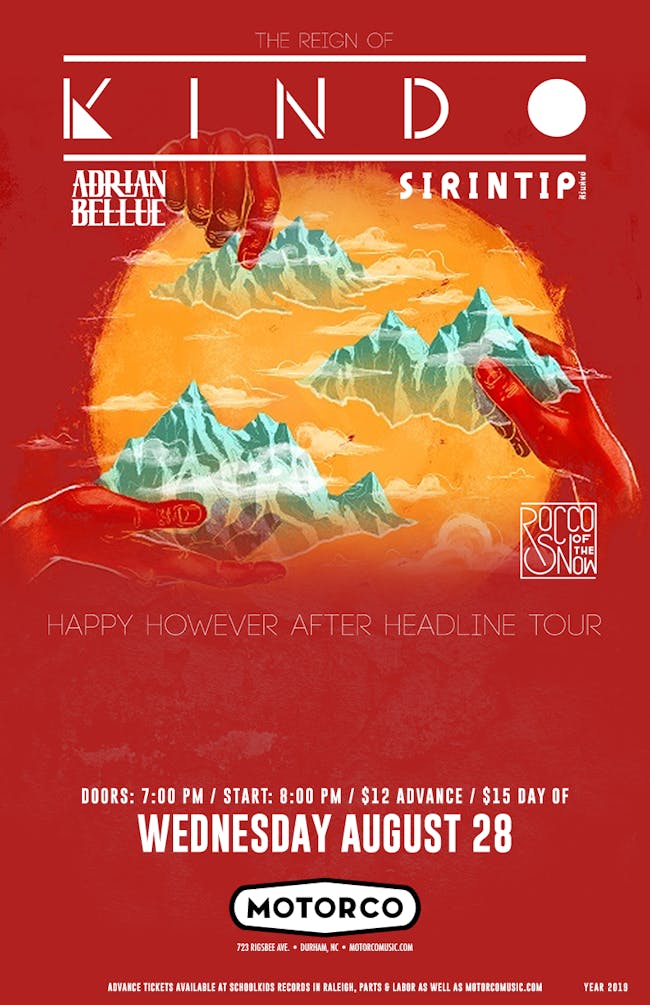 Kindo
Adrian Bellue, Rocco of The Snow, Sirintip
$12.00 - $15.00
Sales Ended
On Ticketfly
KINDO / Sirintip / Adrian Bellue / Rocco of The Snow at Motorco Music Hall
Kindo
Kindo (The Reign Of Kindo) has become one of the most unlikely phenomenons to infiltrate the modern music world. Almost ten years since their debut EP hit #5 on the Billboard Middle Atlantic Heatseekers chart in 2007, this band has only just begun to emerge from their decade-long journey from rags to... better rags with resumes. In an industry where big money and privilege can buy you radio play, TV appearances and audience, Kindo managed to rack up over 3 million views on youtube, over 2.5 Million Spotify plays, & Sell over 30,000 records across the globe, all without the help of any major label. It has become evident, theirs is the sort of sound that so many music lovers are eager to discover and enjoy.
The band has become prolific in recent days; writing and producing a brand new song every month since late 2016. These efforts are made possible by a continually impressive showing of support from their most devoted fans on Patreon. (Patreon.com/thereignofkindo) Patrons receive a brand new song each month, at least a year before it is compiled onto an album to be released in the marketplace. They are currently set to release their 4th full length, 'Happy However After' in April of 2018. The new body of work is a continued exploration of neo-soul, post-rock, R&B as well as the next chapter in the story of their unique blend of sounds.
It's worth noting that every Kindo track since 2006 has been produced in-house by the band, engineered & mixed by frontman, Joey Secchiaroli. This allows the band to create without compromise. The music is made solely with the band & it's fans in mind.
Most recently the band has been re-joined by their founding keyboardist, Kelly Sciandra. The collaboration between Sciandra & Pizzarro on keys will give birth to a new era in their musical journey.
Sirintip
Stretching across three continents and cultures (Thailand, Sweden and America), Sirintip's remarkable debut album Tribus — produced by three-time Grammy winner Michael League of Snarky Puppy — is a gathering of different moments from the last four years of the singer/composer life. It's an exciting, eclectic work that touches on pop, R&B, electronic and jazz, while creating a sound uniquely its own.
Adrian Bellue
Based out of Northern California, Adrian Bellue is an international performing and recording artist that utilizes unique fingerstyle techniques with acoustic and electric guitar to compose beautifully intricate and progressive music. Having recorded his second solo album with acclaimed guitarist and producer Antoine Dufour in Montreal, Adrian inspires audiences around the world with his captivating and dynamic performances.
Rocco of The Snow
Rocco of the Snow is a New York City-based multi-instrumentalist & producer/engineer hailing from Buffalo, NY. In his music, you'll hear his Romantic era/Jazz sensibilities mixed with four-on-the floor dance grooves, funky key-basslines, analog synth-heavy production, and introspective bordering on self-indulgent lyrics, always coming together with the intention of holding melody to be paramount.