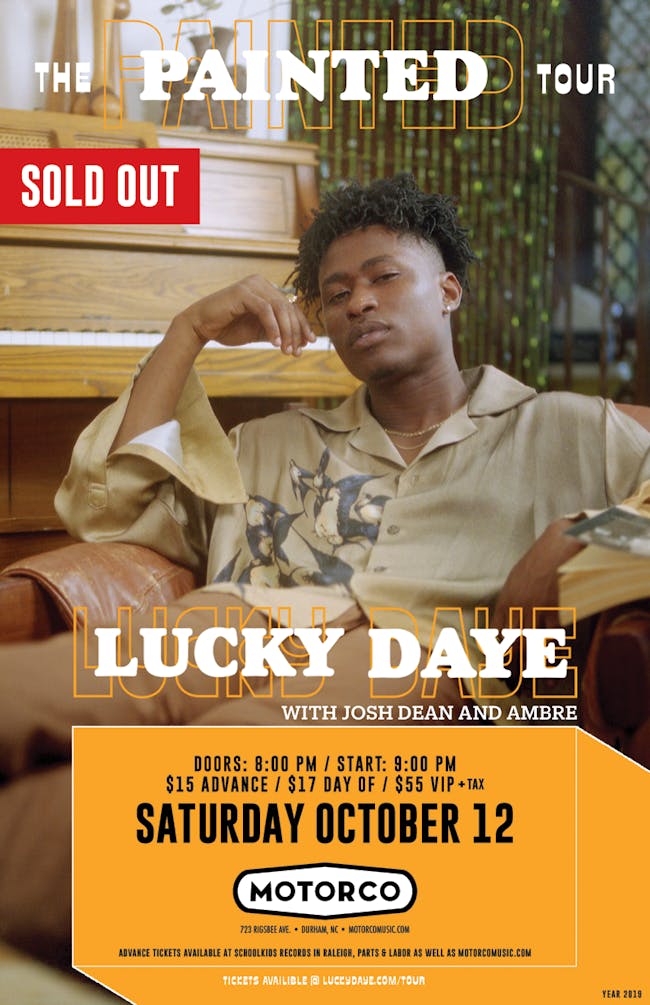 Lucky Daye presents The Painted Tour 2019 - THIS EVENT IS SOLD OUT
Use Lyte if you're looking for tickets OR have tickets you want to sell.
All VIP package elements will be rendered invalid if resold. Name changes will be issued at the sole discretion of 23/7 Global. VIP instructions will be sent via email no later than three days (3) prior to the concert. If you do not receive this email three days (3) prior please email info@237global.com. VIP packages and contents are non-transferable; no refunds or exchanges; all sales are final. All VIP package items & experiences are subject to change. Information provided at the time of purchase (e-mail +mailing address) is the same information that will be utilized for contact requirements where applicable. 23/7 Global, the artist, tour, promoter, ticketing company, venue or any other affiliated parties are not responsible for outdated or inaccurate information provided by the consumer at the time of purchase. For questions regarding VIP package elements or have not received your package information within three days (3) of the concert date, email info@237global.com
LUCKY DAYE
He projects a widescreen vision of R&B. His full-spectrum view encompasses everything from the explosive funky bombast to the soulful croon of seventies favorites and the turn-of-the-century swagger inherent in mid-to-late nineties classics.
As a result, he emerges with a signature sound of his own that stretches from soulfully smoked out to enigmatically energetic on his upcoming debut album, Painted. Lucky has an unbelievable story from growing up in a cult, surviving Hurricane Katrina, making music in Atlanta, road-tripping across the country to Los Angeles, and finally linking up with producer D'Mile to make, Painted.
JOSH DEAN
t's not everyday that an art director transitions to being a singer-songwriter, but then again, Josh Dean's talent knows no bounds.
An Alabama native who studied Business Marketing at Morehouse College, Josh was humbly carving out a lane all on his own by fusing art, business and music. From interning for multi-GRAMMY award winning producer Bryan-Michael Cox and photographer Derek Blanks, to designing the cover-art and campaign for producer Maejor's hit single "Lolly" featuring Juicy J & Justin Bieber. Soon after, Dean found himself being groomed under the tutelage of Janelle Monáe and Wondaland Records, where he would prepare visuals for the collective's compilation EP The Eephus. His biggest break was when Wondaland recording artist, Jidenna, enlisted him to contribute vocals for his GRAMMY Nominated song, "Classic Man", featured in the Oscar winning film, Moonlight. Multi-talented artist Janelle Monae also recruited Dean as a writer for "I Got the Juice" and "Don't Judge Me", off of her GRAMMY-nominated Album of the Year "Dirty Computer".

Now, after getting his feet wet in the industry, Dean is preparing an audiovisual EP of his own music titled Dear BlackSheepe. Describing himself as the next iteration in a wave of millennials from a nostalgia era, Dean's sound is one that incorporates a striking variety of pop and R&B and brings the dynamic dimension that's yet to be harmonized in the industry.