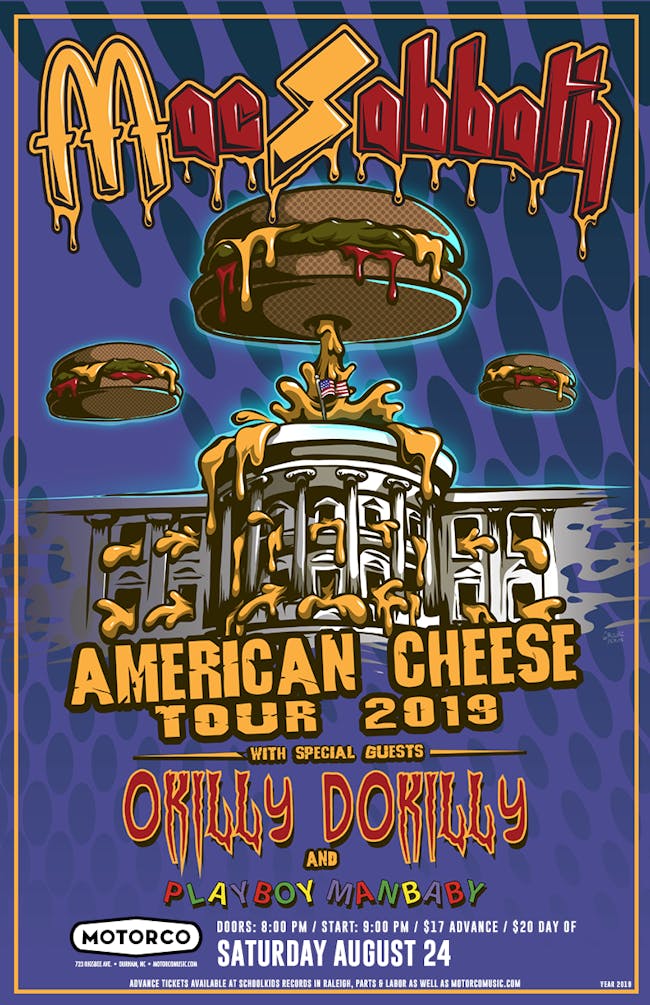 American Cheese Tour 2019
Mac Sabbath
Okilly Dokilly, Playboy Manbaby
$17.00 - $25.00
Sales Ended
On Ticketfly
MAC SABBATH / OKILLY DOKILLY / Playboy Manbaby at Motorco Music Hall
American Cheese Tour 2019
Mac Sabbath
It was the Year of Our Lord 2013, and I was devouring a cheeseburger in a Chatsworth, CA franchise of a certain multinational fast food conglomerate which shall remain nameless. A crazed skull face painted, dirt-bag, clown sat down beside me. This Skeletor reject of Uriah Heap introduced himself as Ronald Osborne and was familiar with my work. I was informed that Ronald, Slayer Mac Cheeze, Grimalice, and the Cat Burglar, were performing secret rock shows in the bunker-like basements of the local restaurants. But the time had come, he said, to bring drive-thru metal up from the "underground," and he asked if I would consider becoming the manager. BAM! Abruptly we were thrown to the sidewalk. (Apparently the daytime manager was not informed of this activity) I looked over at Ronald, watched him brush off the sodium chloride and GMO remnants of my UN happy meal.
Before I knew it, I was in a burger stand bomb shelter, witnessing Black Sabbath music, hilarious fast food lyrics, smoldering clown heads with laser eyes, a giant purple gumdrop bass player, and Tony Iommi with a giant cheeseburger head. I was confused, amazed and can't ever remember feeling so………happy!
Okilly Dokilly
Okilly Dokilly is the world's only Nedal band. Hailing from Phoenix, Arizona, a majority of the band's lyrics are direct Ned quotes. The band's current members include Head Ned (vocals), Dread Ned (drums), Shred Ned (guitar), Bed Ned (bass) and Zed Ned (synth).
Established in 2015 with original members Head Ned, Red Ned, Bled Ned, Stead Ned and Thread Ned, the band found success before ever playing their first show, becoming a viral phenomenon after releasing just a few press photos and a 4-song demo. Within 2 weeks, the band had nearly 30,000 Facebook fans and was featured by numerous publications including Billboard, Time, The Independent, BBC, Esquire, Vice and many more.
In November of 2016 the band released their debut album, 'Howdilly Doodilly', a 13-track catalog filled with Flanderisms, rushing guitars and more than enough left-handed puns. Following the departure of bassist Thread Ned and guitarist Stead Ned for left hand conversion therapy, the band acquired guitarist Dead Ned and bassist Cred Ned. In 2017, the band took on a relentless touring schedule across the US and North America, playing nearly 100 shows to neighborinos everywhere.
Following a short hiatus through 2017 and early 2018, the band regrouped in July of 2018 with a brand new lineup, introducing Shred Ned on guitar, Dread Ned on drums and Zed Ned on synth. In October 2018, the band added bassist Bed Ned and embarked on their first overseas tour with a full UK run.
Okilly Dokilly's live shows are high energy affairs that weave together comedy and brutality. Guttural screams and pounding drums provide a soundtrack for the pummeling of an inflatable donut as green sweaters and round glasses blur across the stage.
Playboy Manbaby