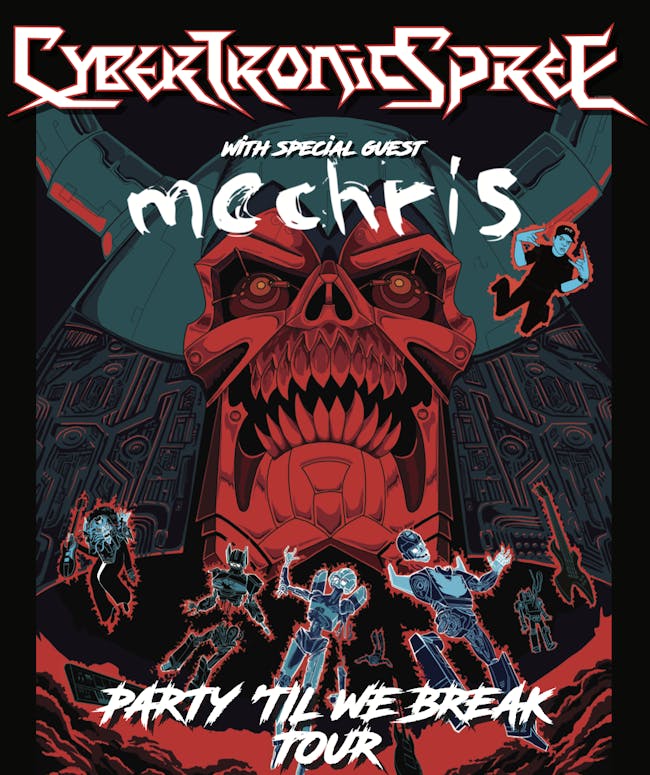 Crank it Loud presents Party 'Til We Break" tour featuring THE CYBERTRONIC SPREE at Motorco Music Hall
THE CYBERTRONIC SPREE
More than meets the eye, The Cybertronic Spree are here on Earth with one critical mission: To party like it's 1986! This band of Transformers has been brought together by the power of rock 'n roll and they can't be stopped. Join Hotrod, Arcee, Rumble, Unicron, Soundwave, Bumblebee, Shockwave and a Quintesson as they prove they've got the power to light your darkest hour. Known across the galaxy for having cast aside their warring factions in the search for the ultimate party, these rockstars in disguise play music from The Transformers: The Movie, hit film and anime songs, and video game covers. They blend their love for the '80s and '80s metal into an energon-fueled, unforgettable live show!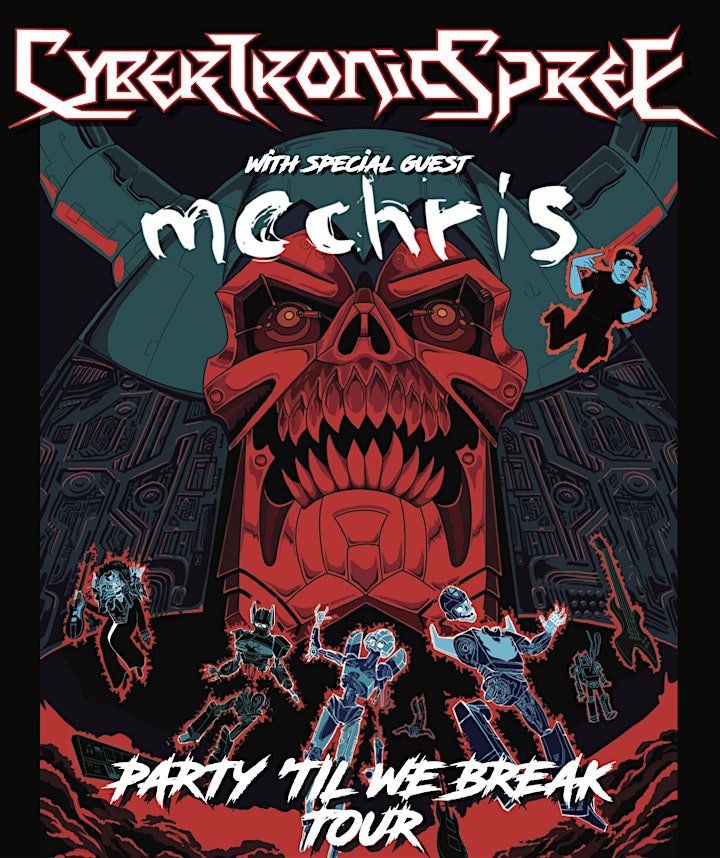 MC CHRIS
mc chris is rapper from the Libertyville, Illinois, a suburb of Chicago. He was one of the first rappers to focus solely on nerd life, rapping about Star Wars, Harry Potter, ninjas and unrequited love. And he's the only rapper that was ever an animator for Cartoon Network for five years.
mc was one of the pioneers of Adult Swim. He was writer, actor, songwriter and animator for shows like Sealab 2021, The Brak Show, Space Ghost Coast to Coast and Aqua Teen Hunger Force. He has voiced characters on several Adult Swim pilots such as Welcome to Eltingville, Cheyenne Cinnamon, Your Pretty Face is Going to Hell and Tight Bros. He was also a producer of on air content for over a year before leaving Williams Street in Atlanta to pursue a career in music.
mc has since released 18 albums and has crossed America countless times, touring as a headliner as well as opening for bands like Pinback, Reggie and the Full Effect and Ninja Sex Party. He's collaborated with Talib Kweli, Andrew WK, Cee-Lo and Childish Gambino. He's performed at SXSW, PAX, Fun Fun Fest, Bamboozle, Warped Tour, GwarBQ, The Gathering, Comicon, Dragoncon and countless others conventions. His music has been featured in Kevin Smith's "Zak and Miri Make a Porno," "Jay and Silent Bob's Super Groovy Cartoon Movie" and he has composed several themes for Smith's Smodcast podcast network. mc's song "Hoodie Ninja" was featured in both a national Honda commercial and America's Funniest Home Videos. Other songs have been featured in Comedy Central's "Broad City" and Fox's "So You Think You Can Dance?"
mc raises money to fight Cystic Fibrosis. Inspired by his nephew who has CF, mc chris and his fans have raised over $150,000 for the Cystic Fibrosis Foundation through eBay sales and donations collected at live shows.
mc kickstarted "The mc chris Cartoon" an animated extension of the skit universe featured on his records. Thanks to donations from his fans, he raised over $60,000 and produced a six minute pilot presentation with the animation company Titmouse Inc. His ultimate goal is to make the cartoon and has moved to LA with his wife and four year old son to make it a reality.
His last album, "mc chris is good music" charted on Billboard, debuting at #2 in the comedy genre. A Marvel Album is expected in 2019 followed by a Middle Earth themed album in 2020.