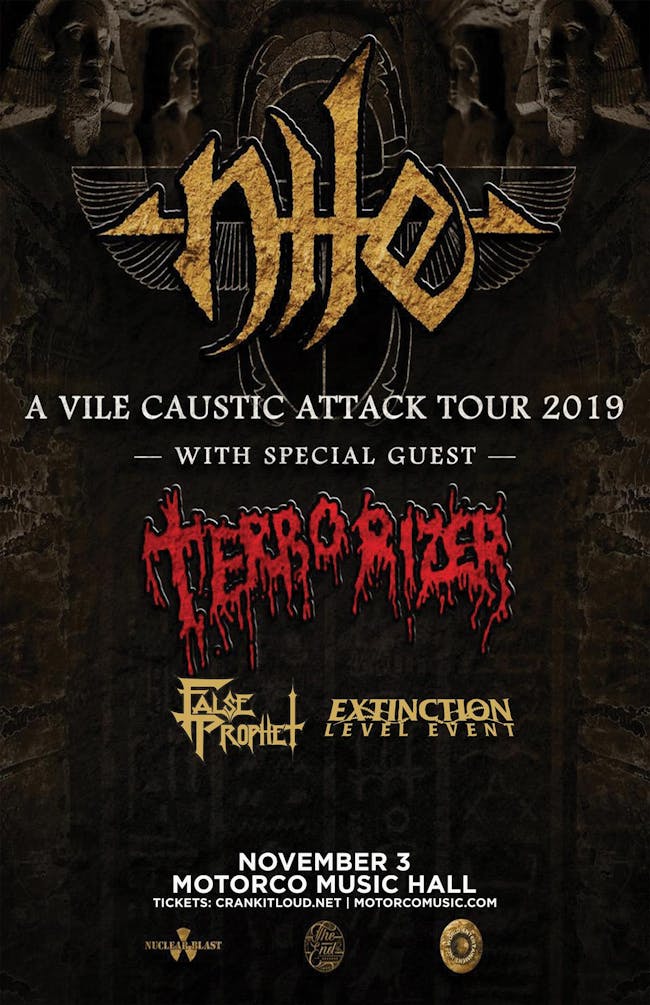 Nile
Terrorizer, False Prophet, Extinction Level Event
Crank It Loud Presents: Nile, Terrorizer, False Prophet, and Extinction Level Event at Motorco Music Hall
Nile
Nile was formed in 1993 by Karl Sanders (guitar, vocals), Chief Spires (bass, vocals), and Pete Hammoura (drums). They have always had interest in Egyptian history and culture; thus they combined that interest with Death Metal. In 1994 they released their self-titled demo. A year later they released "Festivals of Atonement" as Cassette/CD and also performed a few live shows with bands such as Obituary, Deicide, and Six Feet Under.
In 1996 they got a new guitarist (Dallas Toler-Wade), a deal with Visceral Productions, and released "Ramses Bringer of War." Shortly after, Relapse Records saw them play live and listened to their CD's. They offered them a deal, and Nile agreed. And so Nile recorded and released their full-length debut "Amongst the Catacombs of Nephren-Ka," and after the release, they did an 8-month world tour. After their return in 1999, they began working on their next album; it was very tough to make it, and it took a year just to write the lyrics. Sanders spent every night composing, and finally in 2000 they released "Black Seeds of Vengeance".
In 2002, the band returned to work with Bob Moore at Soundlab Studios (with new vocalist & bassist Jon Vesano replacing Chief Spires and drummer Tony Laureano replacing Hammoura in tow) for the production of the new album "In Their Darkened Shrines". Again, the band would rest before committing themselves to recording 2005's Annihilation Of The Wicked with engineer Bob Moore and producer/mixer Neil Kernon (Judas Priest, Nevermore) at Soundlab. Two years and a new record label later, NILE return with "Ithyphallic" (referring to the ancient practice of portraying statues of gods with huge, mystically-proportioned phalluses as a sign of strength and fertility).
In June 2009, Nile entered the recording studio to begin work on their sixth full-length album, entitled Those Whom the Gods Detest. The album was released in November of the same year. On October 21, 2010, Chris Lollis was confirmed as the new permanent bassist for Nile, after four years of session work with the band. On October 11, 2011, Goomba Music released Worship the Animal, which is an alternately titled version of Nile's demo, which the band's original line-up recorded in 1994.
On February 4, 2012, Karl Sanders announced on his Facebook page that they had a new bassist, Todd Ellis, who would contribute vocals to the new record. The next day, he explained on the band's official forum that he had lost contact with Chris Lollis during the writing and recording of the upcoming album, and after three months of silence from him they hired a replacement. On June 29th, 2012, Nile released their new album "At the Gate of Sethu".
On February 9, 2015, Todd Ellis left the band, citing "unforeseen circumstances beyond my control". On July 24, 2015, it was announced that the band will be releasing its new album, entitled What Should Not Be Unearthed, on August 28.
On February 13, 2017, Dallas Toler-Wade has decided to leave the band to focus on his own plans and recordings. Brian Kingsland took his place.
Current Line-up:
Karl Sanders: Guitars, Vocals, Instrumentals
Brian Kingsland: Guitars, Vocals
George Kollias: Drums
Brad Parris: Bass, Vocals
Terrorizer
Terrorizer is a Grindcore band from Los Angeles / Huntington Park, California. After releasing a handful of demo tapes in 1987 and 1988 and splitting up in 1988, they recorded the full-length album "World Downfall" posthumously in the now legendary Morrisound Recordings studio (Tampa, Florida) with engineer-guru Scott Burns. At the time of this recording Terrorizer's original bass player Garvey was in jail so David Vincent (MORBID ANGEL) filled in.
Another interesting fact is that "World Downfall" consists of about 30% Nausea songs, including the title track.
Terrorizer's lyrics were typical socio-political grindcore lyrics with animal rights / environmental topics handled as well.
The band members later joined other bands like NAPALM DEATH (Jesse), MORBID ANGEL (Pete) and NAUSEA (Garvey).
In 2006 Terrorizer released their long-awaited second album "Darker Days Ahead" which consists of half old demo songs and half new material. Shortly after the release of the album, Jesse Pintado passed away on 27 August 2006.
The band has been reactivated in 2008 demo-ing new songs. Guitar duties are now taken over by Katina, guitarist in Resistant Culture.
According to the press release their third album "Hordes of Zombies" was recorded in 2011, slated for release on Season of Mist on 24 February 2012. However the album has reportedly already been recorded in 2009 before Pete Sandoval underwent back surgery.
False Prophet
False Prophet was formed in the then musical barren wasteland known as Greensboro, NC. as a three piece by Paul Ray, Chris Lyndon and Tim Haisman under the moniker Abattoir, they were soon to be joined by Mike Morrison, and began their musical quest to create their brand of brutal assaulting metal. Taking their musical influences, from mid-80's thrash from the west coast like Exodus and Dark Angel, death metal pioneers such as Venom and Possessed, the metal/hardcore ideals of bands from the east coast like Overkill, and the more melodically heavy music from Europe, and created a sound that was both aggressive and technical.
After recording an early demo entitled "Sign of the Cross" released in 1989, False Prophet starting garnering local and international attention, landing them opening slots for Danzig, Dark Angel, Forbidden, Death Angel, Confessor and Demolition Hammer, among others.
In 1991 False Prophet would self-release the album "The Second Death". Around this time, original drummer Haisman would live the band and be replaced by Raymond Martin.
The band received great reviews and had numerous interviews with underground fanzines and metal magazines alike. Around 1992 the band changed their name Infernal Hierarchy. With the new name change, the band once again returned to the studio to record a two song demo, which would later be released on 7" by Rage Records in 1993. Once again, these songs showed the growing musicianship and songwriting that the constant practice and shows were helping the band to achieve. After much success with this release, the band decided to disband this incarnation due to personal circumstances.
Forward to the year 2013, and once again the name False Prophet is beginning to create rumblings in the underground music community. With the new found freedom of the internet, the band was approached by Heaven and Hell Records about re-releasing all of their previous material.
Extinction Level Event
Born in blood, forged in steel. Extinction Level Event brings dark, heavy grooves to an unprepared world.
If you like lots of low end, crushing riffs, and music that makes you head bang way too hard, ELE has a treat for you!
Formed in October 2014, North Carolina's Extinction Level Event (ELE) are the founders of all bass progressive metal, the creators of CLANK, a genre emerging from the 3 bass guitar lineup that has taken the metal world by storm. ELE has been featured internationally in major publications such as Metal Hammer UK, Team Rock, Metal Sucks, Metal Injection, Ultimate Guitar, Lambgoat, Gear Gods, Metal Insider and more.
Are you ready for an Extinction Level Event?