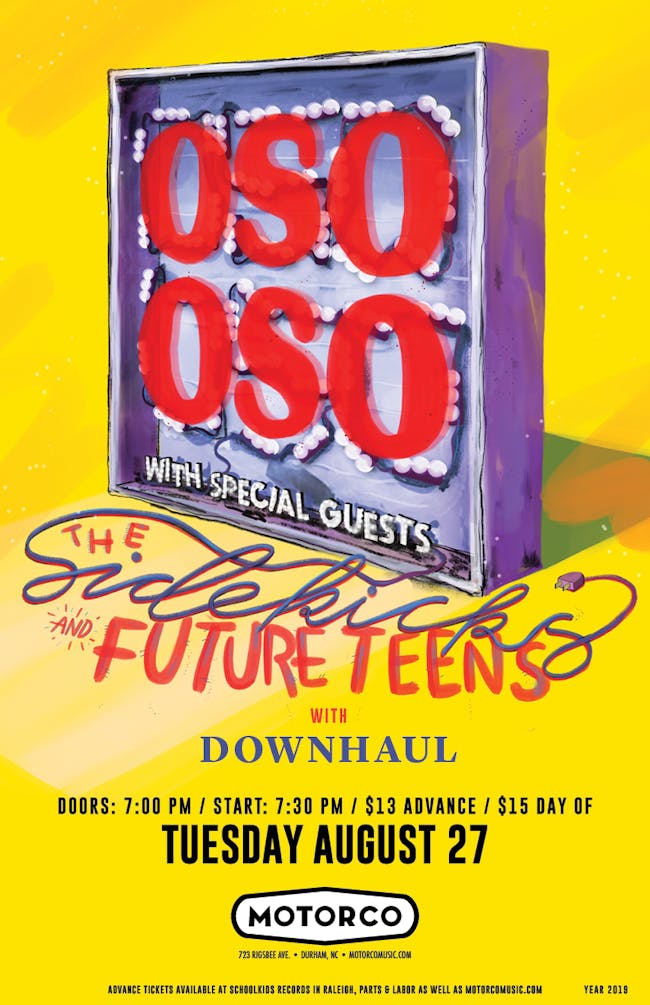 Oso Oso
The Sidekicks, Future Teens, Downhaul
$13.00
Sales Ended
On Ticketfly
Oso Oso at Motorco Music Hall
Oso Oso
Oso Oso is the latest project of Jade Lilitri out of Long Beach, New York. After a couple of early records, the band self-released their first fully realized album The Yunahon Mixtape on Bandcamp in early 2017.
Despite this low key release, the album quickly gained traction across the scene, winning over both fans and critics with it's diverse, recognizable knack for memorable choruses and instantly relatable lyrics. Pitchfork said " Lilitri is as much of a student of his influences as he is a fan, understanding the exact methods that make the sound of this music hit a certain way at a certain age and linger in the years to come." In 2018 the band was signed by Triple Crown Records, who have reissued The Yunahon Mixtape.
The Sidekicks
Growing up is weird. Very few of us ever end up doing that thing for a living that we imagined we might when we were kids. Even fewer end up doing the same thing for the rest of our lives that we were doing as teenagers, even if that thing happens to be making music with our friends. In the case of The Sidekicks, a teenage affinity for playing propulsive punk rock somehow, against all odds, managed to turn into a full-time life pursuit. After nearly a decade of making noisy rock music, The Sidekicks have the audacity to finally grow up and their newfound maturity is at the very core of their excellent new album, Runners in the Nerved World.
"This band essentially started when we were kids, when we were fifteen," recalls front man Steve Ciolek. "Every time we make a new record I always stop and ask myself if we're even the same band now. We were in high school, you know? We loved bands like Against Me! and that's where we were coming from. Over the years we've all grown and changed—like anyone does—and you want the art you make to reflect that. It's just funny sometimes to think about it. The Sidekicks feels like an arbitrary moniker sometimes, you know? We're certainly not the same people we were back then."
Formed in Cleveland, Ohio in 2006, The Sidekicks paid their dues according to the old-fashion punk rock model—by playing lots and lots of shows, sleeping on floors, and generally devoting themselves to recording and touring at the expense of any other kind of life. The bands earliest recorded efforts—2007's So Long, Soggy Dog and 2009's Weight of Air—reflected this. By the time they released 2012's Awkward Breeds, the romance of punk rock was beginning to wane and the influence of pop music began to creep in. "To me the appeal of punk rock was that there weren't any rules," says Ciolek. "Now the word "punk" has changed so much. I still like the whole spirit of punk rock, but it's crazy to spend so many years on the road playing with so many bands that all sound exactly the same, like they are all working within this very rigid formula. A lot of our music now feels like a reaction to that, to having been around that for so many years. This record was really about trying to get away from that punk format, even though I have a lot of respect for that music."
For the recording of Runners in the Nerved World the band— Steve Ciolek (Vocals & Guitar), Matt Climer (Drums), and Ryan Starinsky (Bass)—decamped to Seattle to work with famed indie-rock producer Phil Ek, a pairing that proved to be something of a dream come true for Ciolek. "The dream from the very beginning was to work with Phil Ek," says Ciolek, "When that became a reality it was almost too good to be true. It was working with Phil that really shaped the sound of the record. Up until this point we'd just go into a studio for a week and record everything live and that would be it. This time around I just really wanted to make a great pop record. I was ready to abandon that idea that we're a punk band and everything has to sound like we're a punk band playing in a basement somewhere. I wanted to let the songs just go wherever they needed to go, which was liberating. This time we got to spend six weeks on the songs instead of just one."
According to Ciolek, the songs that eventually found their way onto the new record represented a period of growth for the band, which is obvious from the beginning of album-opener "Hell is Warm"—a track whose feather light guitar lines give way to charging drums and Ciolek's soaring vocals asking the question "How do we not get lost?" It seems a fitting question to open an album all about piloting new and mysterious paths. Tracks like "The Kid Who Broke His Wrist" and "Deer" bring to mind the kind of jangly pop euphoria of early Band of Horses or old Built to Spill records, while "Everything in Twos" is the kind of pop punk jam seemingly tailor made for singing along in a car at peak volume. According to Ciolek, the album offers a variety of firsts for the band. " 'Satellite Words and Me' is kind of the first ballad we've ever written, like our version of "The Long and Winding Road" or something," he explains. "Also, 'Jesus Christ Supermalls' is kind of our way of taking a step towards making a real pop song. We weren't trying to get all symphonic or Phil Spector on this record, but there wasn't any rule that we couldn't use strings and things like that. For the first time ever we really let ourselves explore the possibilities of a studio. Plus, Phil Ek really knows how to make guitars sound great and I think he really enjoyed the opportunity to make a real rock record." The end result is an album that feels deceptively effortless; a collection of songs about the need to move forward, packed with buoyant melodies and razor-sharp hooks that go on for days and days.
"At its core, Runners in the Nerved World is about getting past the excitement of growing up and finding new ways to simulate that movement," says Ciolek. "How that movement manifest itself varies from song to song--whether it be chemically (basically all the drinking references), physically ("Blissfield, MI"), or even by having new romantic partners. The point the record is supposed to make is that it's often pretty arbitrary how that movement is simulated. Regardless of the situation, inevitably the characters in these songs just get stuck in those cycles. The record tries to deconstruct that inertia--that constant motivation to run."
As for what happens next for The Sidekicks, Ciolek and the rest of the band look forward to getting back on the road and playing shows that reflect the bands increasingly varied back catalog. "Everything we've done in the past is still relevant for us," says Ciolek. "It's just weird to think about how something just becomes your life's work, you know? It just happens without you even realizing it. Maybe that's what some of these new songs are kind of about. You know, sometimes it's scary to think about doing this when I'm 30 and I'll have been doing this for fifteen years at that point. It's wild. The Sidekicks could be a totally different kind of band by then, which is fine as long as we're still having a good time."
Future Teens
Future Teens started as a joke, and perhaps appropriately, the band played their first show in a sweaty basement while a Fourth of July barbecue raged outside. They played three songs at that 2014 show, each less practiced than the one before.
The group's debut EP Still Afraid of Allston was scruffy and full of hooks, a bedroom-pop gem that was recorded "right into the computer—we didn't even use amps," Radin (Vocals/Bass) recalls. The charming, conversational songs demanded a fuller sound in a live setting at the band's shows in their hometown of Boston and beyond and so drummer Dylan Vadakin, guitarist Nick Cortezi, and vocalist and guitarist Amy Hoffman signed on.
In 2017, Future Teens wrapped Bored And Alone, which was self-produced and mixed by Justin Pizzoferrato (Speedy Ortiz, Krill). The band's hooks and energy are bolstered by the four-piece setup; "when you're with three other people, you can bounce ideas off each other and collaboration is just more fulfilling," says Radin.
Though standalone in itself, Bored and Alone is a precursor to the band's first full length effort, Hard Feelings. The album title encapsulates how each song toes the line between despair and humor. "Having feelings all the time is hard — but everyone has them in one way or another— my goal with these songs was to write about things that happen to nearly everyone at some point in their lives" Radin explains.
Hard Feelings is out now via Take This to Heart Records features 10 tracks of romantic misadventure, miscommunication and mistakes. The album also features songwriting from Hoffman and Vadakin. Hoffman remarks, "These new songs are happy sad. Though some are sadder than others, singing them is always cathartic."
Downhaul
Before You Fall Asleep is an album of contemplation and growth. After a series of three EPs, each stronger than the last, it just felt like the right time for Downhaul to check the LP off the list of milestones. Well, that and the fact that vocalist/guitarist Gordon Phillips was, "to lean on a cliché, goin' through some stuff."
The ten songs were written over a span of three or four months in early 2018 and deals with themes of self-reflection, self-help, mental health, and learning lean on those who love you when things get rough. And it is all presented in a clear-cut, heart-on-your-sleeve manner. This was somewhat nerve-racking. According to Phillips, "I was, as you can imagine, weary of making the first line anybody would hear from the album about therapy." "Wires / Enough" starts out boldly in that way: "I'm eating fast food frantically, outside of therapy / Six minutes late, really six years late now." There was also the stress that singles are, by nature, presented outside of the context that they have as part of an album. The longer format can bring listeners on a journey and "is such a better chance to say something and to receive a message, too." "But ultimately," said Phillips, "there are going to be people that need to hear this—people who need to hear that it's normal and it's okay. And we all should have done it a long time ago."
"Grace Days", the opening track, sees Phillips speaking about the importance of family. "I couldn't believe the fact that we'd already released 12 songs and I hadn't explicitly said anything about them. They're the most important people in my life." He expresses a sincere gratitude for them and the memories he has of growing up and living together. "It's kind of crazy to think about the fact that you can never really go back there. It just sticks with you as you get older and it's something that weighs on you." Family and friends were what got Phillips through the span of time in which this album was written and their continued support of both him as a person and Downhaul as a band is what keeps him going. Gratitude for these types of relationships is "something that I'm surprised more bands don't want to write about."
The night prior to Before You Fall Asleep was released, Phillips tweeted a message to this circle of supporters to make it clear that he now feels somewhat removed and in a better place than what is expressed on the record. "I had this moment of realization because I hadn't listened to the record in a long time… But it was the night before the album was going to come out and I was like, 'Okay, I'm going to listen to it, I want to see what it sounds like months down the road.' And I put it on and I was like 'oh my gosh, my mom, my sisters, my friends, my cousins are all going to hear these songs in like nine hours and they're going to think I'm at like rock bottom or something like that.' I don't know if I'd forgotten what I'd written or maybe I hadn't thought about their impact in context for a while, but I was like 'okay, I need to put out the disclaimer so I don't get all those 'I'm worried about you' texts on the day the album comes out."
However, anyone listening to the full product is sure to see that there is a light at the end of the tunnel. "Bedridden" is a turning point where Phillips sings that he's "Learning to walk again, leaning on all my friends / Because I'm tired of living like a martyr / In the hope that someone notices." The sentiment here is to both help yourself and to reach out to others when you need it, otherwise "you kind of just internalize all these burdens and all these things that are going on in your life." This is then perfectly tied up in the closing track, "Ring Out". Phillips makes it clear that his struggles are in no way unique and he wants to help normalize this openness about it, triumphantly crooning and encouraging "Let it ring out!"