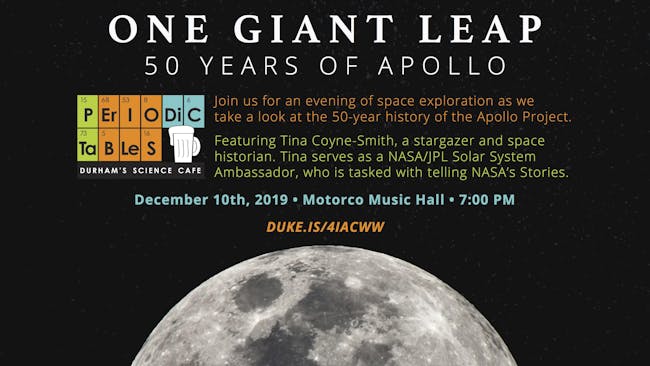 Duke Science & Society presents  Periodic Tables: One Giant Leap: 50 Years of Apollo
DESCRIPTION: In 1969, we did the impossible--humans landed on the moon and returned safely to earth. As the 50th anniversary year of the first moon landing draws to a close, join us for an evening of pictures and stories from Project Apollo. We will examine key moments of each mission from Apollo 1 to Apollo 17. The program is appropriate for all ages of people interested in learning more about humanity's first trips to the moon!
Featuring, Tina Coyne-Smith, a stargazer and space historian who was born just after Apollo 9 proved the success of the lunar module. Tina serves as a NASA/JPL Solar System Ambassador who is tasked with telling NASA's stories.
PERFORMER: Tina Coyne-Smith
For more information clink HERE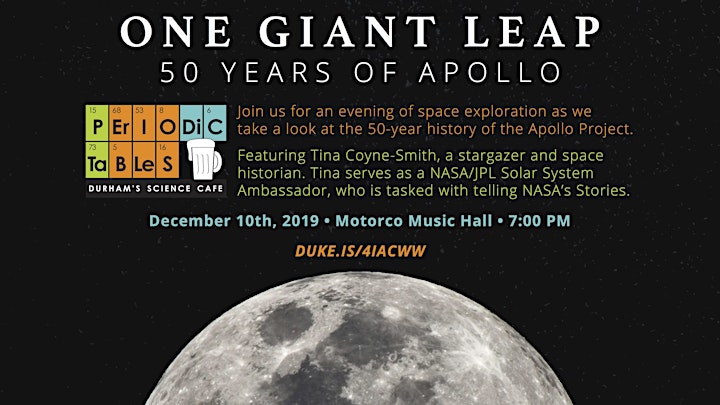 Periodic Tables is an informal science gathering during which invited speakers share interesting, relevant science to the general public in an engaging and interactive way.