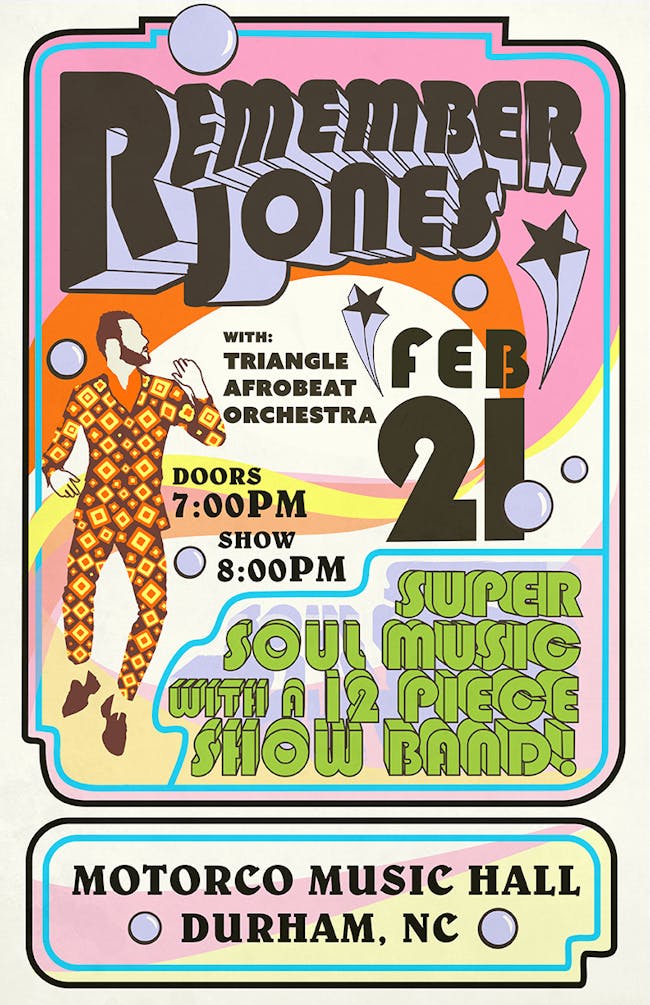 Remember Jones at Motorco Music Hall Super-Soul Music with a 12-Piece Show Band!
REMEMBER JONES
is a one-of-a-kind soul/pop singer, storyteller and bandleader with a throwback vibe and authentic energy. With high-energy show band staging and collaboratively supported by a large ensemble of musicians featuring female backing vocalists, a horn section,
and electrifying rhythm section, the band has played to countless packed and sold-out ballrooms, clubs and theaters throughout the country.
Remember Jones has shared stages with
George Clinton & Parliament Funkadelic, Ronnie Spector & The Ronettes, Darlene Love, Buster Poindexter, Nigel Hall, The Hip Abduction, Ivan Neville's Dumpstaphunk, Southside Johnny & The Asbury Jukes, and more. He has been a member of the acclaimed
Everyone Orchestra
alongside Robert Randolph
and members of Ween, moe., Turkuaz, The Revivalists,
and more.
In the vein of putting their spin on others' material, Remember Jones released
Ain't That a Kick in the Head?!,
a single in celebration of Dean Martin's 100th birthday, sharing studio time with Dean's daughter,
Deana Martin.
Remember Jones' debut album,
Ladies and Gentlemen, Remember Jones!,
was created after raising close to $19,000 through nearly 300 small donations via IndieGoGo, and created in front of a live studio audience with a 25-piece band. Their subsequent release,
Tranquilizer!,
was recorded at the Bomb Shelter in Nashville, TN, under the production of Andrija Tokic (Alabama Shakes, Hurray For the Riff Raff, Langhorne Slim). Remember Jones was named one of
Paste Magazine
and Daytrotter's
Top 10 R&B/Soul Artists of 2017.
In addition to touring and supporting two albums worth
of original material, Remember Jones presents and fronts multiple productions which have also gained wide popularity.
back to BACK TO BLACK,
a recreation of the entire Amy Winehouse album with an orchestra of 12, YAS QUEEN!,
a theatrical concept dedicated to Freddie Mercury and the music of Queen, and a revival of Joe Cocker's
Mad Dogs and Englishmen
with a 20-piece band have helped Remember Jones develop a diverse audience as the band opens each performance with a set of original music. The company has performed Jeff Buckley's
Grace
album in its entirety as a collaboration with Grammy-nominated guitarist and Grace co-writer Gary Lucas, a 50th Anniversary concert experience of the musical
HAIR,
and a live revival of Kanye West's 808s and Heartbreak
with a 25-piece orchestra.
Whether you see him fronting a piano, a four-piece
band, or with a soul orchestra of 25, Remember Jones evokes the energy of the great front men and women, with one of a kind song styling and expert storytelling that keep audiences on their toes and emotions in the moment.
"Fiercely passionate frontman... one for the ages... holds the audience in the palm of his hand..." - Live For Live Music
"...remarkable vocalist... uncanny magic... Remember Jones is heading for big things." - Popdose
"...truly captivates audiences every time he performs..." -BroadwayWorld.com
"A singer blessed with an amazing instrument and an uncanny ability to interpret the music of others so that the material becomes unmistakably his own, Remember Jones is at the vanguard of the rebirth of soul music as an immersive experience that begs to be felt as well as heard." - KEF Audio
A set with Daytrotter, called "AMAZING!!...highly recommend this session to everyone and anyone..." was released in February 2017: http://www.daytrotter.com/remember-jones/futureappletree-december-09-2016.html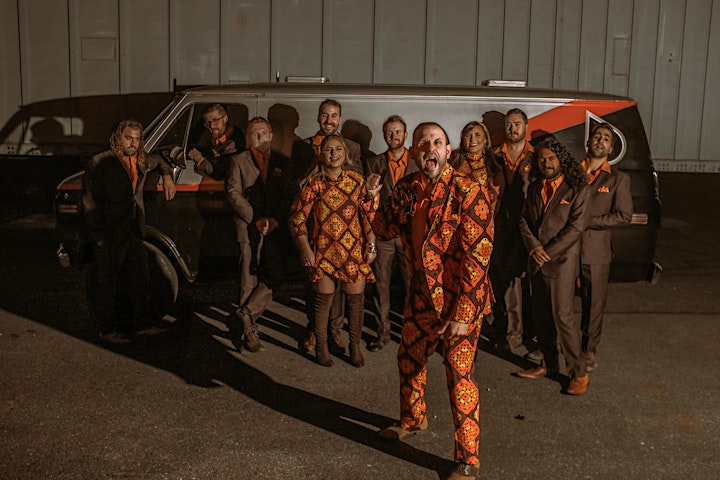 TRIANGLE AFROBEAT ORCHESTRA
Triangle Afrobeat Orchestra, led by bassist/composer Vattel Cherry, is an effort to wake up consciousness, bring people together, interpret, explain, denounce, keep record, and provoke changes through music. TAO takes its inspiration from Afrobeat creators Fela Kuti, drummer Tony Allen as well as pianist/singer Nina Simone and fiction writer/poet Henry Dumas.