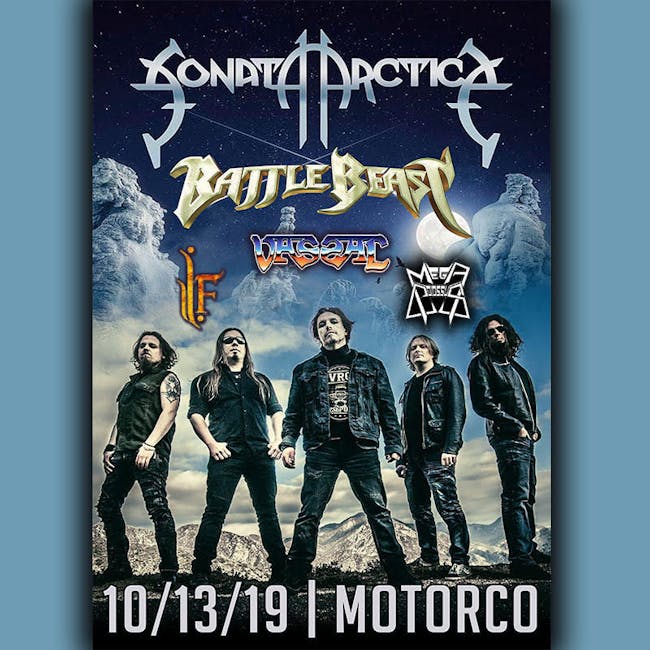 Sonata Arctica
Battle Beast, Vassal, Mega Colossus, Infinity Fortress
Crank It Loud Presents SONATA ARCTICA with Battle Beast, Vassal, Mega Colossus and Infinity Fortress at Motorco
Sonata Arctica
Sonata Arctica began in 1996 under the name Tricky Beans in Kemi, Finland. They would release three demos under that name – Friends Till the End, Agre Pamppers and PeaceMaker. In 1997 they renamed themselves Tricky Means, changing their rock ways into a more Power Metal feel and gaining influences from bands such as Stratovarius.
Battle Beast
Based out of the hard rock-rich Finnish capital city, Helsinki's Battle Beast specializes in no-holds-barred, mace to the face, vintage European power metal.
Originally formed in 2008, the band underwent a few lineup changes before settling on guitarists Anton Kabanen and Juuso Soinio, drummer Pyry Vikki, bass player Eero Sipilä, keyboard player Janne Björkroth, and powerhouse female vocalist Nitte Valo. They inked a record deal with Finnish label Hype Records in 2010 and issued their debut album, Steel, the following year. The record did well regionally, and eventually caught the ear of Nuclear Blast, which reissued the album internationally in 2012. After a European tour with Nightwish, Valo announced her departure from the group, citing family reasons. New vocalist Noora Louhimo joined just in time for a tour with fellow Finnish power metal unit Sonata Arctica and in 2013, the band headed back to the studio to begin work on their sophomore long-player. The resulting eponymous Battle Beast peaked at the number five slot on the Finnish album charts. Unholy Savior, the band's third studio outing, arrived in January 2015, and topped the Finnish charts in its opening week. That same year saw the departure of guitarist Anton Kabanen, who was replaced by keyboardist Janne Björkroth's brother, Joona Björkroth, in 2016. The following year saw the band release their fourth studio album, Bringer of Pain, and embark on their first North American tour alongside Sabaton and Leaves' Eyes. Following a successful world tour, including dates in Japan, the group returned to the studio to record their fifth album. With keyboardist Janne Björkroth in the production chair, the resulting album, No More Hollywood Endings, was issued at the beginning of 2019.
Vassel
Vassal! A heavy power metal band from Durham, NC
Mega Colossus
MEGA COLOSSUS. Raleigh, North Carolina. Adventure Metal since 2005. Twin guitar leads like an eagle screeching through space, fantasy inspired lyrics from the dustiest old book collection, and the raw power of metal to make you grin with pleasure as you pour beer on your own head, this is Mega Colossus!
Infinity Fortress
Infinity Fortress. Wilmington, North Carolina. A progressive take on power metal. Take an adventure accompanied by driving, technical melodies, with powerfully heartfelt vocals!