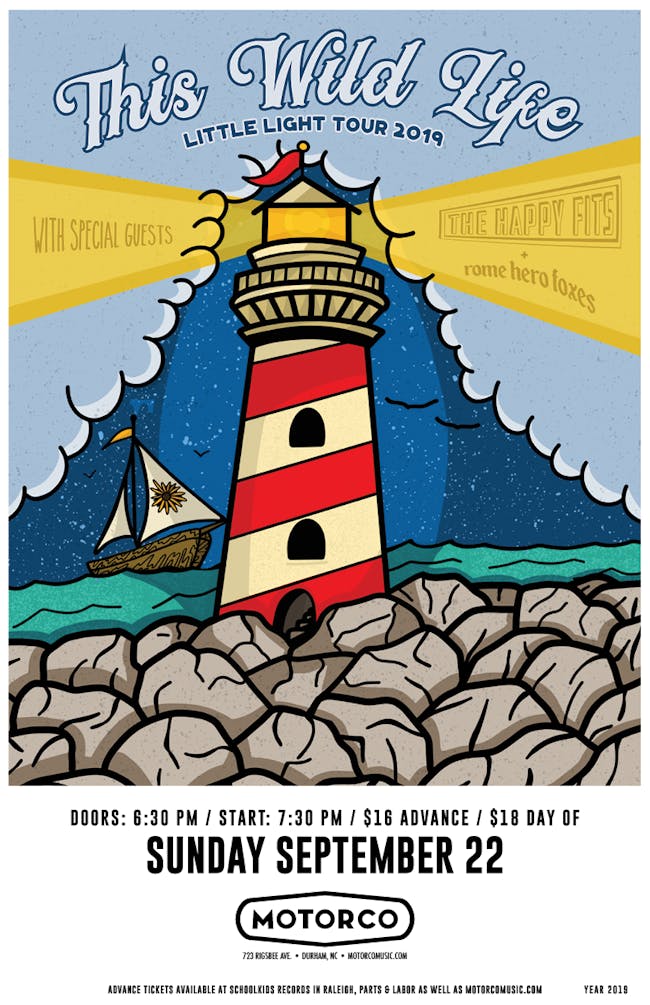 This Wild Life
The Happy Fits, Rome Hero Foxes
$16.00 - $18.00
Sales Ended
On Ticketfly
This Wild Life at Motorco Music Hall
This Wild Life
This Wild Life is an acoustic rock duo from Long Beach, California consisting of Kevin Jordan on vocals and guitar and Anthony Del Grosso on guitar.[1] Jordan and Del Grosso were originally pianist and drummer's respectively.
The Happy Fits
Rome Hero Foxes
HOUSTON'S ROME HERO FOXES NAMED THEIR SOPHOMORE LP 18 SUMMERS, BUT IT MORE ACCURATELY DESCRIBES THE BAND'S BEGINNINGS. SHORTLY AFTER GRADUATING HIGH SCHOOL, THE QUINTET WAS DISCOVERED IN 2016 BY DANCE GAVIN DANCE'S KURT TRAVIS AND RELEASED FOR WHEN YOU'RE FALLING BACKWARDS. AS FAR AS DEBUTS GO, ITS EXPANSE MELDED THE URGENCY OF POST-HARDCORE WITH AN INWARD GAZE OFFSETTING ANY CHAOS. THAT INTROSPECTION, BENT OVER SWIRLING GUITARS AND MESMERIZING VOCAL LINES, LED TO REINVENTION. INSTEAD OF BARING THEIR TEETH THROUGH ARRANGEMENTS THAT SPIRALED AND WARPED, THE BAND TOOK A SELF-IMPOSED JOURNEY INTO SIMPLER TERRITORY. A PAIR OF TWIN EPS, I/O AND HOROSCOPE, RESET ROME HERO FOXES AS A GROUP INDEBTED TO SURF ROCK AND INDIE POP INSTEAD OF GNARLIER WAVES, WITH THE LATTER PREDICTING THEIR SHIMMERING FOLLOW-UP. ENTER THE REAL 18 SUMMERS.
18 SUMMERS ENTERS LIKE A DREAM — ABRUPT AND DISORIENTING — BEFORE ADJUSTING TO THIS NEW STATE WITH ENTHUSIASM. THIS ETERNAL SUNSHINE CAPTURES A WORLD WHERE TIME IS RELATIVE: SIT BACK, RELAX, AND DIVE IN. BECAUSE HERE, LOVE REIGNS SUPREME.