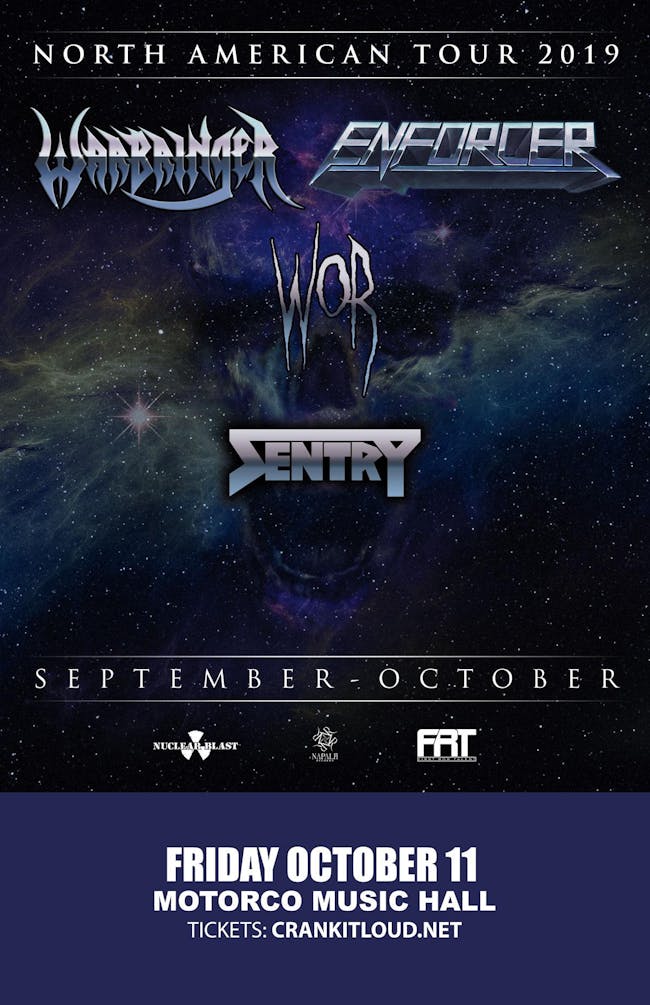 Crank It Loud Presents WARBRINGER / Enforcer / WoR / Sentry​ at Motorco Music Hall
Warbringer
WARBRINGER has continued to evolve throughout its four albums into the one of the most aurally devastating bands in the scene today. On March 31st they deliver their monumental 5th record entitled Woe to the Vanquished and make a triumphant step forward on this record--it's an absolute must for ANYONE who's into metal today.
WARBRINGER singer John Kevill describes the new album musically:
"For the music on this record we re-focused ourselves after a lot of the experiments on Empires Collapse, and decided we wanted to make a record that is start-to-finish more merciless, ruthless, and cruel, but also maintains some of the more melodic and progressive sense. What we ended up with is a record that has a lot of traits of classic thrash but also a lot of extreme metal, and a rather unique version of that blend. It's overall faster and meaner than anything else we've put out, but also has our biggest and most ambitious song, the 11-minute "When the Guns Fell Silent" to close the record."
Woe to the Vanquished has been carefully crafted over period of time, and the album was produced and mixed by Mike Plottnikoff (Fear Factory, In Flames), mastered by Howie Weinberg (Slayer, Pantera) with cover art by the esteemed Andreas Marschall (Sodom, Blind Guardian, Obituary).
Kevill explains the stunning album artwork, "It is directly based on a photograph from the end of the First World War--a grim monument, a pyramid of 12,000 German spiked helmets, right in the middle of New York City. What struck me about the image is firstly how morbid it seems to be celebrating 12,000 dead men and calling it victory."
Enforcer
While the rest of the metal world was busy trying to reinvent the wheel, Sweden's Enforcer decided to take a different approach.
Rather than worrying about the future, the band embraced heavy metal's past, and in 2004 they formed a band that would bring speed metal back to the world. Founded by guitarist and vocalist Olof "The Enforcer" Wikstrand, the band caught the attention of the underground metal world with their 2005 four-track demo -- it made their reputation and led to their playing and touring their punishing sound on both local and festival stages. Their debut full-length, Into the Night, offered punters fast riffs, extremely high-pitched vocals, rumbling melodic basslines, and thwacking, high-energy drums that settled comfortably alongside vintage bands such as Angel Witch, Diamond Head, Rage, Exciter, and early Iron Maiden, and with their catchy hooks and extreme attack, they found a place of their own inside that vintage sound. Later recordings such as 2010's Diamonds and 2015's From Beyond doubled down on that aesthetic and built upon it, giving them an approach all their own.
The band, consisting of Olof and Jonas Wikstrand, Adam Zaars, Joseph Tholl, and Tobias Lindqvist, channels the spirits of old-school speed metal bands like Venom and Anvil, paying homage to the brash aggression of those metal pioneers without ever feeling ironic. In 2008 the band released their debut, Into the Night, on Heavy Artillery. Enforcer later signed to Earache, which released their sophomore album, Diamonds, in 2010. The following year saw Enforcer ink a deal with Nuclear Blast, which issued their third album, Death by Fire, in 2013, as well as 2015's punishing From Beyond. After a three-year writing retreat with few live dates to interrupt them, the band re-entered the studio and emerged with Zenith in 2019, their first album to feature new guitarist Jonathan Nordwall. The finished album was regarded by most critics as their most ambitious effort to date. In addition to offering a translated cover version of Terminal's "Zadnji Izlet" as "Regrets," they sonically channeled everything from Operation: Mindcrime-era Queensrÿche and Blind Guardian to ABBA and Europe.
WoR
WoR is a Groove Metal/Metalcore band based out of Raleigh, NC. Their music combines aggressive metal riffs and harmonic leads with mid tempo beats and Metalcore breakdowns. Add in the infectious Anti-authoritarian and activist lyrics of Bobby DeMoss, and you have all the ingredients for WoR.
WoR was founded in Raleigh, North Carolina in July 2018 by guitarist Ben Kaiser, drummer Jeremy Seward, and bassist James McMillian. February of 2019, the band welcomed vocalist Bobby Demoss to join the group. Demoss brings a diverse vocal style to the group that is highlighted not only by his unique screaming style but also by his ability to write meaningful and powerful lyrics. In March and April of 2019, WoR welcomed bassist Phillip Funderburk and drummer John Paul Williams into the group to solidify its lineup. Phillip comes from a punk background and John comes from the hardcore scene in Buffalo, bringing high energy to the sound to the band. WoR takes influence from a variety of different genres of metal including thrash, groove, death, and sludge. In addition, genres such as the blues, hardcore, and punk also have a great influence over the members of the band.
Sentry
Metal group hailing from Greensboro NC