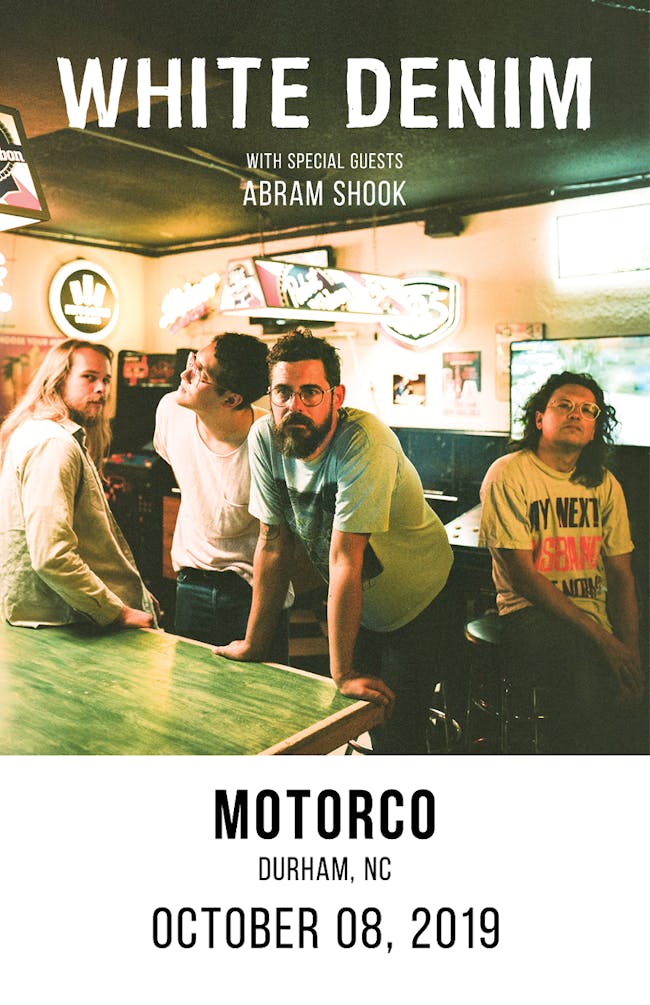 WHITE DENIM / Abram Shook at Motorco Music Hall $15 adv/ $18 day of
White Denim
A freewheeling indie rock combo from Austin, Texas, White Denim is built around core members James Petralli (vocals, guitars) and Steve Terebecki (bass).
Drawing from psychedelic/garage rock, punk, funk, jazz, blues, and prog rock influences, the group fashioned a hard-hitting sound with crunchy guitar riffs and frantic energy. After making their recording debut as a power trio with the Let's Talk About It EP in 2007, they expanded their lineup and their sound with their first album as a quartet, 2011's D. The band debuted on U.S. and U.K. album charts with their fifth LP, 2013's Corsicana Lemonade, and 2016's Stiff reached the U.K. Top 20.
All veterans of the Austin music scene, Petralli, Terebecki, and drummer Josh Block formed White Denim in 2005. Block and Petralli had previously played together in the alt-rock outfit Parque Torche, while Terebecki was a member of Peach Train. The 7" EP Let's Talk About It marked the band's studio debut in 2007. They recorded the tour-exclusive Workout Holiday EP later the same year, and in 2008, the group retooled many of their older songs for Explosion, White Denim's first full-length release. The band had amassed a sizable audience in the U.K. by this point, prompting the sophomore album Fits to hit British shores several months before its American release in October 2009. The following year, the group expanded their lineup to include second guitarist Austin Jenkins, and they self-released Last Day of Summer, which cleared out song ideas they'd been bouncing around for the previous four years. In 2011, White Denim issued their fourth album, D, on Downtown Records.
In 2012, the group joined Wilco on tour for select dates in the U.S. and Canada, and Wilco frontman Jeff Tweedy produced two tracks on White Denim's fifth full-length release, 2013's Corsicana Lemonade. The record marked their album chart debuts in the U.S. and the U.K., reaching number 147 on the Billboard 200 and number 65 on the U.K. Top 75. They followed it up a year later with The Pretty Green EP, and in 2015, Josh Block and Austin Jenkins parted ways with the group. Petralli and Terebecki recruited guitarist Jonathan Horne and drummer Jeffrey Olson, and the revamped four-piece headed into the studio with producer Ethan Johns. They re-emerged in March 2016 with their sixth long-player, Stiff. It became a Top 20 album in the U.K., and also reached the Top 20 of the U.S.' alternative and independent albums charts.
Petralli and Terebecki returned with another album in 2018, this time with keyboardist Michael Hunter and drummer Conrad Choucroun (NRBQ). Titled Performance, it marked White Denim's debut with City Slang Records. A slightly more experimental companion album, Side Effects, arrived in 2019 and featured the tracks "Shanalala," and "NY Money."
~ Andrew Leahey & Marcy Donelson
Abram Shook
Abram Shook grew up in California where he spent his days surfing, studying jazz, and absorbing the rich radiant music of Brazil and West Africa, before moving to Portland, and then Boston. He finally settled in Austin, TX where he's been an active member of the city's creative community for over 10 years. His music has been praised by Vice, Stereogum, Texas Monthly, Consequence of Sound, NPR's World Cafe, and many others. In addition to working on his own music, Abram was a touring member of Shearwater, and currently tours with Erika Wennerstrom of Heartless Bastards.

Shook's latest album The Neon Machine, is a dystopian dance party, inspired by everything from Prince and Bowie to contemporary artists like Unknown Mortal Orchestra and Blood Orange. In contrast to his quietly reflective 2017 album Love At Low Speed, the new album's mix of beats and slyly humorous lyrics might seem like a 180 at first glance. However, those familiar with Shook's previous work, know that he's always explored his own brand of off-kilter funk. Relying heavily on a vintage Sequential Circuits Prophet 600, a drum sequencer, and his signature rubbery bass lines, Shook creates a world of vibrant synth-pop on his new album, but there's something slightly sinister beneath the surface. Using highly confessional lyrics and deeply personal insight to convey his trepidation towards the grim prospects of our time, he writes candidly about the country and culture that he's grown up with, but hasn't always felt at home in. Its backdrop is a party that's lasted too long, and in the foreground Shook serves as a narrator full of anxiety and skepticism, whose hangover has already begun.